On Sunday, December 7th, The Foothill Gators officially earned a spot in the Championship Bracket of this week's Holiday Classic Tournament. The Gators will be seeded 4th after posting a 2-1 record in last week's pool play in Scottsdale, Arizona. The seeds are as follows: # 1: Firebirds # 2: Bailey Baseball # 3: Chandler Patriots # 4: Foothill Gators We edged-out the Outlaws by (1) run! Our 1st game will be Saturday, December 13th at 11am vs the Firebirds at Copper Ridge #3. After we beat the Firebirds, we will be playing at 1:30pm for the tournament Championship.
The Foothill Gators beat the Outlaws Thursday evening (11/20) to claim the title of 2003 SEV Babe Ruth 16U CHAMPIONS. It was a total team effort with standout plays by: Roy Meeter, who pitched a complete 7 inning, 1 hit shut-out highlighted with 14 strike-outs. Eddie Robles was excellent behind the dish calling a great game and executing a critical throw-out at third base. The eventual winning run came in the bottom of the 6th when Patrick Barnes led off with a sharply hit line drive to right field sending him all the way to second base. Next, Jon Stitzinger laid down a perfect infield bunt which also also sent Patrick to third base. Next came the score... The Reliable Billy Watson executed a perfect sacrifice bunt as Patrick Barnes came charging home on an exciting suicide squeeze play. Congratulations to Patrick Barnes, Brian Franz, Collin Harmon, Brian Johnson, Brad Knight, Roy Metter, Chase Meyers, Nick Oliver, Mike O'Neil, Pat O'Neil, Devin Reginato, Eddie Robles, Jon Stitzinger, Billy Watson, The Gator Coaching staff, Parents and Fans! Go Gators !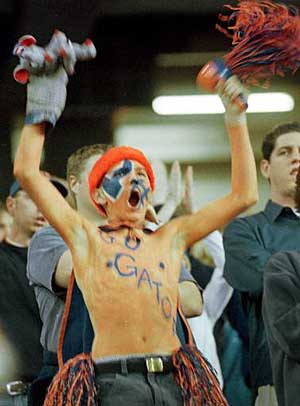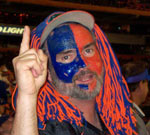 The following games have been canceled due to Rain. Tonight...Gators and Scorpions Game to be played Monday Nov.17th at 7:30pm The Championship game has been moved to Wednesday Nov.19th at 7:30pm.
The Gators will be practicing at Vista Canyon Park this Sunday 11/9/03 from 10:00am - noon to prepare for the end-of-season SEV Fall 03 Tournament. Please contact either Coach Doug or myself if you are unable to attend.

Roy Meeter "The Heater" completed a full 7 inning game capturing a win over the Sidewinders. Roy had only 1 earned run and struck out 9. The Gators swept the Sidewinders in a doubleheader Sunday 4 to 1 in game # 1 and 8 to 2 in the second game.