WASHINGTON - Pat Tillman, who walked away from his professional football career to join the Army Rangers, was killed in Afghanistan, U.S. officials said Friday. The officials, who spoke on the condition of anonymity, said a formal announcement was expected later in the day. Spokesmen at the Pentagon and U.S. Army declined comment. There were no immediate details how Tillman died. He was 27. A military official, also speaking on the condition of anonymity, said that a soldier had been killed in action in Afghanistan Thursday, but could not confirm that the soldier was Tillman. Some members of the Army's elite Ranger units were taking part in the hunt for al-Qaida and Taliban fighters in southeastern Afghanistan, the military official said. Tillman played four seasons with the Arizona Cardinals before enlisting in the Army in May 2002. The safety turned down a three-year, $3.6 million deal from Arizona. He made the decision after returning from his honeymoon with his wife, Marie. Tillman's brother, Kevin, a former minor league baseball prospect in the Cleveland Indians' organization, also joined the Rangers and served in the Middle East. They committed to three-year stints in the Army. Tillman's agent, Frank Bauer, has called him a deep and clear thinker who has never valued material things. In 2001, Tillman turned down a $9 million, five-year offer sheet from the Super Bowl champion St. Louis Rams out of loyalty to the Cardinals, and by joining the Army, he passed on millions more from the team. Tillman turned aside interview requests after joining the Army. In December, during a trip home, he made a surprise visit to his Cardinal teammates. "For all the respect and love that all of us have for Pat Tillman and his brother and Marie, for what they did and the sacrifices they made ... believe me, if you have a chance to sit down and talk with them, that respect and that love and admiration increase tenfold," Coach Dave McGinnis said at the time. "It was a really, really enriching evening." It was not immediately clear when Tillman went to Afghanistan. The 5-foot-11, 200-pound Tillman was distinguished by his intelligence and appetite for rugged play. As an undersized linebacker at Arizona State, he was the Pac-10's defensive player of the year in 1997. He set a franchise record with 224 tackles in 2000 and warmed up for last year's training camp by competing in a 70.2-mile triathlon in June. Tillman carried a 3.84 grade point average through college and graduated with high honors in 3½ academic years with a degree in marketing. "You don't find guys that have that combination of being as bright and as tough as him," Phil Snow, who coached Tillman as Arizona State's defensive coordinator, said in 2002. "This guy could go live in a foxhole for a year by himself with no food." Tillman and his brother Kevin last year won the Arthur Ashe Courage award at the 11th annual ESPY Awards.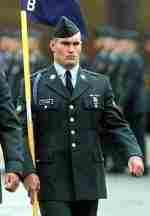 Good Luck to All Gators and Gator Alumni trying out for school-ball this week. If I can help, please contact me. Things to remember: * No matter what happens this week, each of you have the talent to play at the levels you are trying out for. * If you make an error, "Don't Dwell on it!" Move on and focus. * Hustle is a tie-breaker. Focus on the coaches and run everywhere...You will standout in a positive way. * Have a good-positive attitude. * Relax and have fun... Baseball is a game. Good Luck, Coach Digger and Coach Doug
The Foothill Gators will participate in the CCFA Charity tournament on January 24th & 25th (Sat/Sun)(Crohn's and Colitis Foundation of America ) We are in the 15 year-old Division. The teams in our bracket are: Team 11: Bailey Baseball Team 12: Patriots Team 13: Dust Devils Team 14: Vikings Team 15: Gators Team 16: Wolves We have (2) games on Saturday, Jan. 24th: 3:15pm Estrella (Lower)vs. The Vikings. and 7:30pm vs. The Wolves. Depending how we do, will depend on where we are seeded for Sunday's games. There are (3) games in our division on Sunday: Consolation # 1 @ 10:30am / Consolation # 2 @ 1:00pm and Championship at 1:00pm. Please contact me if you have questions. Thanks, Coach Digger
Success: "Some people dream of success... while others wake up and work hard at it."
Thank you to our newest sponsor: Foothills Sports Medicine & Rehabilitation; They are sponsoring the Gator's entire entry fee for the Holiday Classic Tournament. Please visit their website and inquire about a Gator team discount for "speed training."