Announcement
Padre`s Devine Intervention Halt Yankee win streak at 8
More editing options
Padre`s Devine Intervention Halts Yankees Win Streak at 8
Saturday Night was the final match-up of the regular season for the Padres and Yankees. The Yankee Clipper set sail in the first inning scoring four runs. The Bombers looked like they might run away and hide but the Padres scored 6 unanswered runs, as the usually dependable Yankee pitching staff struggled to find the strike zone. The Mighty Bombers made a valiant attempt at a comeback but fell one run short in the final frame and lost the contest of gladiators 8-7. The Yankees banged out 12 hits. Parker (The Real Deal) True and Kyle (The Great Santini) Santin paced the boys in pinstripes with 3 hits each. Other Yankees who sent bats to the aluminum recycling center were; Ramon (Mad Dog) Esparza III 2-3, Terrence (T-Bone) Berg, 1-2, Andrei (The Big Cat) Buado 1-3, Jake (The Snake) Peralta 1-3, Hayden (H) Mitchell 1-3. Jackson (Ajax) Shedd and Nick ( One eyed Willy) Lake made fantastic defensive plays and once again the dynamic duo of Spencer (The Road Runner) Floyd and Ryan (Pocket Rhino) Sancedo provided stellar back-up in right field.
With the loss the Mighty Bombers fall to 12-3, and barely clinging to first place. Will the Bombers prevail? Can they hang on with three games to go? Stayed tuned !
Game Ball: Kyle (The Great Santini) Santin
Defensive Gem: Jackson (Ajax) Shedd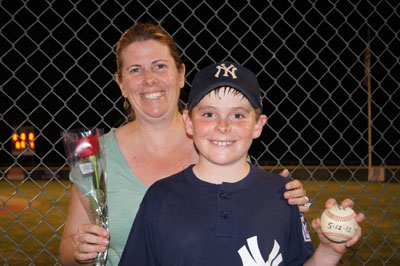 Comments
There are no comments for this announcement.