Announcement
Bombers assign Tigers to endangered species list
More editing options
Bombers assign Tigers to endangered species List
The Yankees and Tigers squared off in a battle for first place at Buljan Park last night. When the smoke cleared the Mighty Bombers found themselves sitting a top the division with a 2.5 game lead. The Yankees played spectacular in all three phases of the game. Fantasic defensive plays were made by: Terrence (T-Bone) Berg, Jackson (Ajax) Shedd, Ramon (Mad Dog) Esparza III and Hayden (H) Mitchell. Superior defensive back-up was provided from the right field Dynamic Duo: Ryan (Pocket Rhino) Sancedo and Spencer (The Road Runner) Floyd Andrei (The Big Cat) Buado and Kyle (The Great Santini) handled the Cats hitters allowing only two hits while striking out 7. Yankees brought the wood as usual. The Lumberjacks wearing pinstripes were; Mad Dog 1-3; Parker (The Real Deal) True 1-1; The Great Santini 2-3; Jake (The Snake) Peralta 2-2,2b; Zach (Scooter) Berry 2-3; Ajax 1-1 and Nick (One eyed Willy) Lake 1-2.
With the victory the Bombers move to 12-2
Game Ball: Zach (Scooter) Berry
Defensive Gem : Terrence (T-Bone) Berg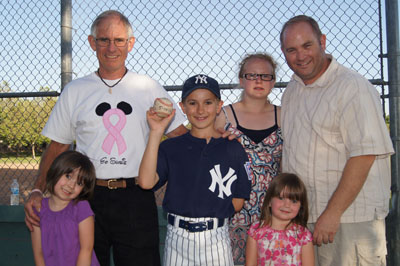 Comments
There are no comments for this announcement.