Announcement
Cranbrook wins 2010 STATE CHAMPIONSHIP over Grosse Pointe South 2-1 in Double O/T.
Posted by
Paul Gard
on Mar 13 2010 at 04:00PM PST
More editing options
Write up from Grosse Pointe News Bob St. John.
Bloomfield Hills Cranbrook Kingswood's Sydney Sakwa scored with 1:12 left in double-overtime, sending the favored Blue Devils home with a 2-1 loss. Sakwa's harmless shot found a way by senior goalie Maggie Miller, who was screened on the play and didn't see the puck until it was too late. She got a piece of the puck, but it had enough steam to elude her glove and fall behind the goal line.
"(Colleen) Jacoby was the difference in the game," head coach Bill Fox said. "She played well and we bit ourselves a couple of times that cost us. We outplayed them for the most part, but they won the game." They did everything in their power to win the game, outshooting the Cranes 51-21, but Sakwa (two goals) played the heroine and Jacoby (50 saves) was the most valuable player.
"I knew my goaltender would keep us in the game," Cranbrook Kingswood head coach Terry Brooks said. "We're a well-conditioned team and it showed tonight. We wouldn't quit and beat a great team."
The Blue Devils were seven seconds from losing in regulation play, but senior Ana Harris tied it with a slapshot from 10 feet away. Fellow seniors Rae Sklarski and Shannon Gianino assisted on the goal that came with 7.1 seconds left.
Fox's squad outshot the Cranes 13-7 in the first overtime and 6-5 in the second.
Grosse Pointe South finished the season 21-1 and Cranbrook Kingswood was 19-3.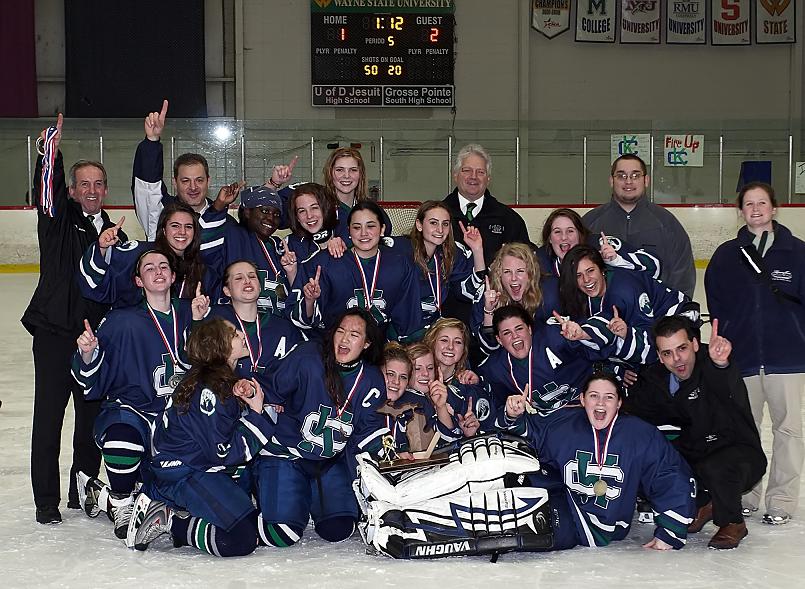 Comments
There are no comments for this announcement.