Lumber Company's first game in this weekend's USSSA "D" NIT in Joliet will be at 10:00am on field #3. Lumber Co. opens with Stevenson Auto Repair from Buckingham, IL. There are 29 teams in this weekend's "D" NIT, including 3 teams from Michigan and 2 from Minnesota. A LoCo win at 10:00am will give them a noon game #2. *click this article's headline to display the entire tourney bracket
Lumber Co. lost their first game in their JPD Friday Night "B" league to Uncle Richies by a final score of 16-11, moving their Friday record to 2-1. Having good nights for the LoCo were E.Boe with 3 hits and R.Nurczyk (1 HR), B.Munday, J.Filas and J.Lesnik with 2 hits each. Lumber Company's next game is Friday night, June 6th, at 7:30pm on field #2 against Hope Softball. This game will serve as a tune-up for this weekend's June 7th and 8th USSSA "D" NIT in Joliet.
In Friday night "B" league action the Lumber Company rolled past Ken's Beverage by a final score of 19-5. In the 15 run rule 3 inning victory Lumber Company hitting stars were Ryan Nurczyk, 3-3, 2 HRs, 5 RBIs; Scott Munday, 2-2, 1 3B, 3 RBIs; Jeff Behun, 2-2, 1 HR, 1 3B and Matt Wallace homered. Lumber Company improved their Friday Night "B" record to 2-0. Lumber Company's next game is Saturday morning in the May 24th USSSA "D" qualifier at 9:00am vs. Payroll One on field #5.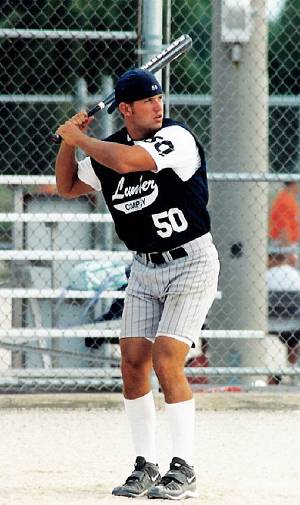 In Tuesday night JPD "B" league action the Lumber Co. got smoked by rival D'arcy by a final score of 15-0. This game was never close, as the Lumber Company ended up with more stitches, six in the chin of third basemen Bob Munday, then they did hits or runs. LoCo tries to get back on track Friday night in a key Friday JPD "B" league game against Uncle Richies. The game is at 6:30pm on field #4.
Lumber Company had a tough weekend going 1-2 in the May 24th USSSA "D" qualifier in Joliet. It was a weekend when the LoCo bats never really got going. Lumber Co. opened the tourney strong with a 10 run rule victory, knocking off Payroll One, from Montgomery, IL, 14-4 in five innings. LoCo's second game was a 10-8 loss to Money, who were from Elmwood, IL. LoCo had several chances to take the lead in this game but never really capitalized. Finally Lumber Co. was knocked out of the tourney by a young Northbeach Wildmen team, from Downers Grove,IL, by a final score of 6-5. This game could have been the LoCo's worst hitting performance in a couple years. Having good weekend's for the Lumber Co. were Eric Boe hitting .889; Kenny Wallace, .625; Matt Wallace, .556; Matt Staab, .556 and Scott Munday, .500. This weekend was just one of those weekend's, the Lumber Co. look to get the bats back on track for our next game, which is Tuesday night at 8:30pm on field #1 against rival D'arcy.