Both of Lumber Company's games this week in Joliet Park District league play (Thursday, May 13th and Friday, May 14th) have been rained out. They will be rescheduled for later in the season. The LoCo will have next week off since no JPD league games are scheduled for next Thursday or Friday (May 20th and 21st), so we will not be back in action again until Thursday, May 27th, when we play perennial Joliet power Ken's Beverage at 8:30pm on field #1. We play again the next day, Friday, May 28th against Primetime at 7:30pm on field #4. Both these league games will serve as a tune-up for our next tournament, a USSSA "D" NIT in Indianapolis, IN at the Midwest Sports Complex, the weekend of Saturday, May 29th and Sunday, May 30th.
Lumber Company went 1-2 in the May 8th Joliet USSSA "D" Qualifier. In their first game of the tournament Lumber Co. lost to Deerpath Development by a final score of 9-4. In this game Lumber Company was unable to get anything going with the bats and it showed by only scoring 4 runs. In game 2 the Lumber Co. offense came to life as we 10 runned Barbs Spectrum by a score of 18-6 in five innings. In our third game of the tournament we squared of against familiar foe KGB Softball (Uncle Richies) and lost by a final score of 8-5, in a game neither team really played well. Leading the LoCo attack over the weekend was Eric Boe, .889, 3 HRs and 8 RBIs; Matt Wallace, .625; Brad Walsh, .583; Jerry Miko, .556 and Kenny Wallace, .500 and 5 RBIs. Lumber Company looks forward to JPD league play beginning this week and the opportunity to play softball on a consistent basis. Our next game and first league contest is Thursday at 7:30pm on field #1 against long time rival D'Arcy. *click on this articles headline for the tournament results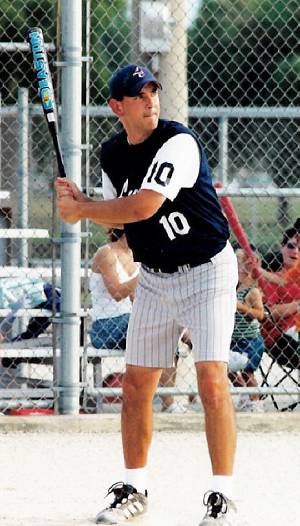 We will be practicing on Sunday, May 2nd at 11:00am at the Inwood Sports Complex. This will be our final tune-up prior to our USSSA "D" Qualifier on May 8th and 9th in Joliet.
Lumber Company opened their 2004 season going 2-2 in the April 17th Joliet USSSA "D" Qualifier good for 5th place. Lumber Company opened the 2004 season with a 9-7 loss against Dirtbags from Aurora, IL. Lumber Company was leading 7-4 going into the bottom of the 6th inning but Dirtbags scored 5 runs to take a 9-7 lead which they never relinquished. Despite 18 hits Lumber Co. could only plate 7 runs. The LoCo offense was highlighted by 3 hits a piece from Eric Boe (1 HR) and Jake Pool. Lumber Company rebounded in game two defeating Peckers/Tanel from Big Bend, WI by a final score of 21-11. Lumber Co. scored 12 runs in the top of the first and then cruised to victory. Leading the LoCo attack was Jim Lesnik, Eric Boe (1 HR, 5 RBIs) and Kenny Wallace all with 4 hits. Matt Wallace added 3 hits and 5 RBIs. In game 3 Lumber Co. was matched up with Caps/Fury from Lombard, IL. Lumber Company won this game with the final tally being Lumber Co. 10, Caps/Fury 5. Brad Walsh and Jim Lesnik led the offense with 3 hits each. Game number 4 saw Lumber Co. paired up with a tough Joltin' Joe's team from Waukegan, IL. However, this game saw neither team's offense do much with Joltin Joe's knocking the Lumber Co. out of the tourney by a final score of 6-2. Lumber Co. had several chances to take control of this game but the bats just weren't there. The only Lumber Co. bright spot was a 3-3 game by leadoff man Jim Lesnik. Leading the Lumber Company at the plate all weekend were Jim Lesnik, .733; Eric Boe, .692, 2 HRs, 8 RBIs; Matt Wallace, .692, 9 RBIs; Kenny Wallace, .538 and Brad Walsh, .500. A 2-2 finish was not the outcome Lumber Co. was looking for but an 85 degree April day with 4 softball games to knock the winter rust off was just what the doctor ordered. Lumber Co.'s next action will be in the May 8th and 9th Joliet USSSA "D" Qualifier. *click on this article's headline to view the entire tournament's results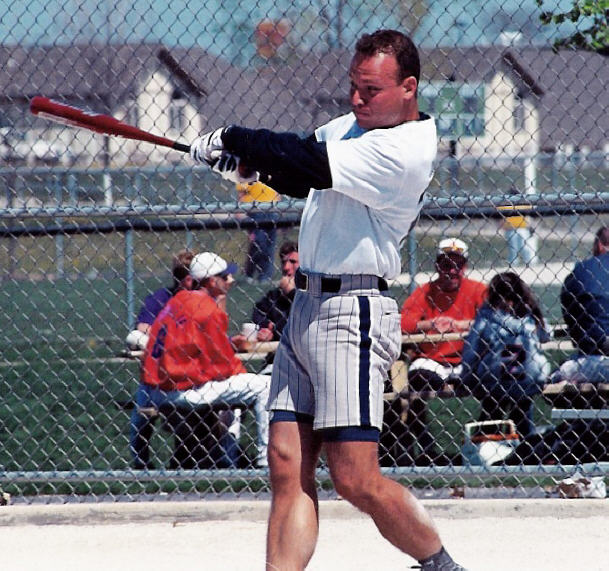 The Lumber Company welcomes back Jake Pool to the team for the 2004 season. This will be Jake's second tour of duty with the Lumber Company. Pool will give the Lumber Co. another solid left handed stick in the line-up. Jake will wear jersey number 3 and see time at both first base as well as in the outfield. Jake was part of the Lumber Company in the 1999 and 2000 seasons, in the 2001 and 2002 seasons Jake played with D'arcys and in 2003 he played with Chico's. In other Lumber Company news Manager Bob Munday hopes to have the 2004 tournament schedule posted on this website by the end of this weekend. Please check back periodically.