Past winners of the Lumber Company year end team awards are as follows. Awards were given out beginning with the 2002 season and are voted on by all members of the team. MVP 2002 Kenny Wallace 2003 Ryan Nurczyk 2004 Eric Boe 2005 Joel Filas Offensive Player 2002 Ryan Nurczyk 2003 Eric Boe 2004 Eric Boe 2005 Eric Boe Defensive Player 2002 Jim Lesnik 2003 Matt Staab 2004 Eric Boe 2005 Matt Wallace Most Improved Player 2002 Bret Peterson 2003 Jim Lesnik 2004 Joel Filas Rookie of the Year 2005 Tony Giese
Lumber Company's annual year end party was held on Saturday, November 26th. A good time was had by all. At the party the 2005 Lumber Company team award winners were announced. They were as follows. Most Valuable Player - Joel Filas, #5 Offensive Player - Eric Boe, #24 Defensive Player - Matt Wallace, #10 Rookie of the Year - Tony Giese, #15 Congratulations to all who were honored. Happy Holidays to all who visit this site. See you in '06.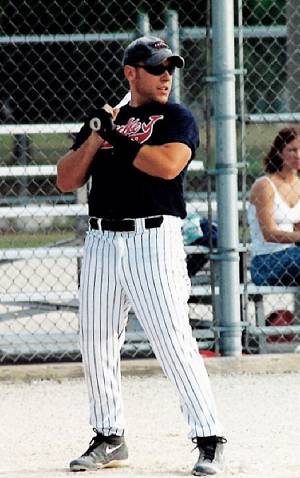 Lumber Company finished it's 2005 season with a 41-34 record. 2005 Team accomplishments are as follows. 5th Place - NSA "D" Regional Tournament 5th Place - NSA "D" State Tournament 1st Place - Country Club Hills NSA "D" Qualifier 2nd Place - Joliet USSSA "C" Qualifier 4th Place - NSA "D" Early Bird Qualifier Lumber Company leaders in the three major offensive catagories were as follows. Average: .632 - Eric Boe Homeruns: 21 - Tony Giese RBIs: 90 - Matt Wallace With the closing of a very fun and successful 2005 season the Lumber Company looks forward to the 2006 campaign. Anyone interested in beoming a Lumber Company sponsor in 2006 please e-mail munday22@aol.com.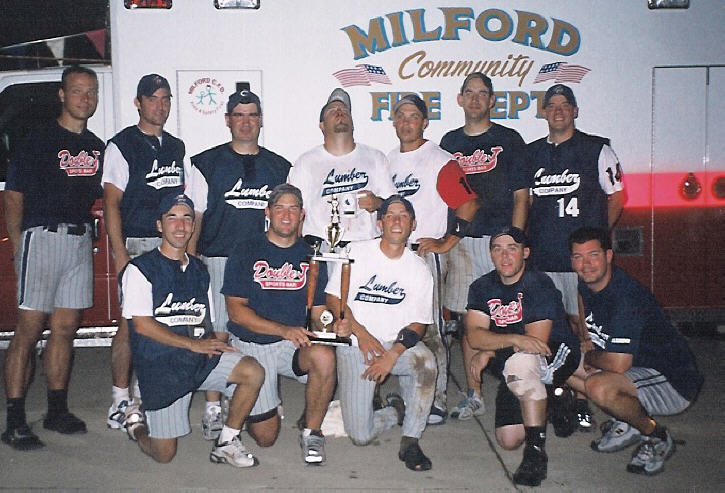 Lumber Company finished 3-2 in the USSSA "D" Great Lakes National Tournament in Blaine, MN. That was good for a top 20 finish, 17th place, from the 63 team field from 4 states (IL, MN, IA and WI). Lumber Company came out flat opening the tourney with a 6-5 loss against Moose/Rock Stars from Minnesota. That loss ended the Lumber Co.'s Saturday and they would have to wait until Sunday morning to get back at it. Sunday's opener was against Kwik Star from Iowa. Lumber Co. took an early lead in this game and never gave it up winning by a final of 11-8. Game number 3 was against another Minnesota team, named Fury. The LoCo bats woke up in this game pounding out 22 runs on 29 hits defeating the local team by a final of 22-8. In game number 4 the LoCo bats remained red hot pounding out 22 runs on 29 hits for the second straight game, defeating Zimmerman's from Iowa by a 22-3 final. Lumber Co.'s 5th game of the tourney was against the Illinois "C" and Elite "D" State Champs, Dirtbags from Aurora. Well in this game the Lumber Co. bats went cold and Dirtbags hammered the ball all over the field winning by a final score of 18-3 and showing why they won a couple state championships this year. The Lumber Co. again battled back from a round 1 loss and made a respectable showing against some very good out of state teams. Way to battle for a second straight weekend fellas. Leading the Lumber Co. offense for the weekend were T.Giese, .714, 9 RBIs; B.Munday, .625; E.Boe, .600, 6 RBIs; J.Lesnik, .571; J.Behun, .556, 6 RBIs; M.Staab, .500, 9 RBIs and J.Filas, .500, 9 RBIs. Lumber Company's next games are in the NSA "D" World Tournament in Indianapolis, IN over the September 16th-18th weekend. *click on this articles headline to view the entire tournament's results
Lumber Company took 5th place with a 4-2 record in the NSA "D" Regional Tournament in Arlington Heights, IL. There were 20 of the best NSA "D" teams from 4 states (IL, MI, WI & IN) playing in the Regional. The Lumber Co. opened the tourney with a 21-10 loss against Jax/Mizuno from Michigan. In this game the Lumber Co. hit 6 home runs, resulting in Jax/Mizuno getting 10 free runs do to the NSA progressive penalty HR rule. In their second game the Lumber Co. defeated Road Dogs from Crystal Lake, IL by a final score of 9-8. In Game 3 the LoCo defeated Verlo, the 2005 Wisconsin NSA "D" state champs, by the 10 run rule 14-4. In their last game on Saturday the Lumber Co. knocked off a tough Jesse Oaks squad form DeKalb, IL by a final of 13-6. Lumber Co. opened Sunday with Rakers Appraisal, who are from Southern IL. The Lumber Co. won this game by a final score of 14-6. Lumber Company's final game of the tourney was a 15-13 loss to Wolverines from MI. The top 5 finishers from the Arlington Heights "D" Regional were as follows. 1.) WTP (WI) 2.) Wizards (IL) 3.) Add-a-Bath/Demarini (IL) 4.) Wolverines (MI) 5.) Lumber Co. (IL) and Jax/Mizuno (MI) Leading the Lumber Co. offense all weekend were M.Wallace, .700, 6 RBIs; J.Filas, .625, 1 HR, 6 RBIs; J.Pool, .609, 1 HR, 6 RBIs; R.Motta, .571, 1 HR, 7 RBIs; E.Boe, .565, 2 HRs, 11 RBIs; J.Lesnik, .533; T.Giese, .524, 1 HR, 11 RBIs and B.Munday, .500. All in all a top 5 finish in in a tough NSA Regional tournament is something to be proud of. Especially battling back from a first round loss were we made it tough on ourselves with all the home runs. Lumber Company's next games will be in the USSSA "D" Great Lakes National Tournament in Blaine, MN over Labor Day weekend (September 3-5). *click on this article's headline to view the entire tournaments results