Collingswood Football Athletes (listed by year of graduation, Captains highlighted)
Prior to 1910 Lloyd Haney, William Flynn, Thomas Clevenger, Houseman Kille, Harry Stout, Herbert Schooley, Walter Scott, Albert Usilton, Warren Maneak, Buchanan, William J. Clevenger and Clarence MacNelly.
1910 (Competition took place at White Horse Pike and Collings Avenue (where the Sutton Apartments now stand) (not well organized, schedules arranged by somebody on the team.) T. Russell Clevenger, Walter J. Scott, Herbert Schooley, Harold Nace, Houseman Kille, William Flynn, Lloyd Haney, Albert Usilton, Warren Maneak, Wesley Jack, Clarence MacNelly, Reds Raynor, Ketcham (first name not known), Buchanan, William Clevenger, Albert Cromwell and Harold Vennell. Robert Shields
1911 Albert Usilton,
1912 (Wesley Jack, Walter Scott, Russell Clevenger, Herb Schooley, Thomas Williams, Royal Smith, Allen Temple, Harold Nace, Thomas Clevenger, Houseman Kille, William Flynn, Lloyd Haney, Albert Usilton, Warren Maneak, Clarence MacNelly, Reds Raynor, Buchanan, William Clevenger, Harry Stout, Ketcham, Albert Cromwell, Harold Vennell, Allen Temple
1913 (Robert Shields,
1914 (Robert Shields, Raymond Wiliams, Paul Brauer, Edwin Mills,
1915 (Paul "Shorty" Brauer, Elmer Carll, Jack Mayo, Ralph Wright
1916 (Paul Brauer, Elmer Carll, George Warfield, Raymond Williams, Ralph Wright, Claude Campbell
1917 (Ralph Wright, Philip Dickle, Carroll Thomas, Edward Campbell, William Bartolet, Claude Simon, William Miller, Louis Bernheisel, Harold Anderson, Curtis Holten, Ralph Wright, Henry Evans, Gordon Avil, Irving Stagmer
1918 (Ralph Kelling, Harold Anderson, Curtis Holten (Mgr.), Gordon Avil, Thomas Fanelli, Howard Miller, Joseph DeFrates, Louis Bernheisel, Clarence Kinkade, Robert Chandler, George Kohlhiend, Emerson Bird, Irving Stagmer, Harold Egan, Edmund Hessert, Russell Clevenger,
(Enter Howard "Skeets" Irvine, football coach for the next 30 years)
1920 (Edgar G. Warren, Captain, Raymond Brierly, Harry Nichols, Jones, Howard Roberts, Robert Wilkins, Eynon, Edward (Thomas?) Strahan, Bronson Stagmer, Harold Weidman, James Pickens
1922 (Frank Conerton 4, Ronald Emmott, Mgr. 4, John Fessman 3,4 Harry Grossman 3, R. Stanford Hudson 3, 4 Lynn Jones 3,4 Persifor Keenan 3, Howard Roberts 2,3,4 George Snell 3, Howard Tilton 3, Eugene Parks Vandeekleed 4, William Weidman 3,4 William Charles Williams 3, 4
1923 (Chase, Slim Hood, Robert Wilkins (Capt.), Harry Nichols, Thomas Cornbrooks, Chase Jolly, Chick Reinert, Vernon Nichols, Mike Teegan, James Knecht, Harold Bryant, Maron Miller, Clarence Fay, "Pud" Morris, Russ, Crevey
1924 (Thomas Cornbrooks 2, 3, 4 Clarence Fay, 4 James Knecht 3, 4, Harry Nichols 1,2,3,4 Field Ringgold 4, Wiliam Turnbull 3 mgr., Lewis Zeyher 3,4,mgr., Robert Wilkins 1,2,3,4 Robert Mohrfeld 4, Harold Bryant 2,3,4
1925 (Harrison Boggs 4, Kenneth Brenner 3, Lincoln Brown 2,3, Horace Johnston 4, John Magill 12, Jack Moran 2,4, Edward Pickens 4 Charles Zeugner 3,4 Robert Creighton 4,Elmer Hood 3, 4
1926 (Thaler Beddall 3, Harold Fortiner 2, Clifford Galbraith 3, 4 Elmer Griffeth 4, Charles Hartle 4, Burdelle Hawk 3, W. Leonard Johnston 3, John Knecht 4 mgr., Richard Knepper 4, Arthur Milnamow 2, 3, Alex Robb 3, 4, Matthew Van Istendal Jr. 2,3, Malvin Harry Weeks, Jr. 4, Alan Maclary 4, Clifton Rubicam
1927 (Oliver George Billings, Jr. 3, Raymond Carty 3, James Danser 4
George Dawson 1,2,3,4, William Graupner 3, 4, Lester Haik 2, Lester Hannum 4, James Hayney 4, William Hornyak 4, Calvin Hughes Jr. 4, Benjamin Kliger 4, John Krisher 2, 3, Allen Mills 2, Oswald Minot 2,3,4, Frank Peterson 1,2, William Teall 4 mgr., Wallace James Trumbower 2,3,4, Walter Watson 3,4, Charles Webb 1,2,3,4
1928 (George Chism 3,4, Haines Davis 4, James Davis 3,4 Frederick Kane 2,3,4 Joseph Kopp 3,4 William Saunders 4, Charles Tully 4, Harry Waibel 4, Harry"Rosy" Young 1,2,3,4 Wilbur Phillips 4, Louis Feinstein 4, Leonard Cheibelhut 3,4 James Kooker, Mgr., Al Minot, Ralph Rhinehart Chub Seeman, John "Reds' McCaffrey, Tom McLaughlin, Clifford Knepper, Kurt Volk, Herbert Voight, Harold "Hut" Larsen, Fred Van Istendal
1929 (Nelson Duerr, Walter Ibbekin, James Kelly, Clifford Knepper, Mgr., James Kooker, Mgr., Charles Lore, Thomas McLaughlin, Fred Millenbaugh, Warren Moll, William Russell, Joseph Seeman, Fred Van Istendal, William Willard, Carlton Peacock, Ralph Rhinehart, Harry George, Eldridge Downes, Harold "Hut" Larsen, Paul Buffler, Bruce Steele
1930 (Alden Davis, Jr., 3,4, Joseph Haih 3,4, Seaford Fox Jackson, Harold "Hut" Larson, Karl S. Russell, Edward Schueneman, William Willard, Capt., James Williams, Eldridge Downs, Capt., Bill Conover, Bruce Steele,Jack Earle, Tom Lennox, Harold "Hut" Larsen, Eldridge Downes, Bill Davis, Newton Mathis, Ralph Rheinhard
1931: Addis Bowles, Vincent Bradford, William Conover, James Cranmer, David Danser, Eldridge Docones III, Norman Hughes, Lane McBurney, Newton Mathis, W. Robert Robotham, William Shultz, J. Stuart Ware, Earl Wert
1932: Bernard Beals, Henry Boenning, Eugene Bradford, Calvin Chase, Richard Corvin, Jack Earle, Frank Folcher, Harold Hughes, Ralph Hughes, Ralph Ibbeken, Bryant Jefferson, Edwin Larson, William McCarthy, Fred Martin, Jack Molthop, Robert Phillips, Charles Potteiger, Samuel Rogers, Irving Schwartz, Gerald Seeman, Jack Taylor (mgr.), Charles Thompson
1933: John Carr, Robert George, John Oliver Gluyas, Howard Lafferty, Robert Schuenemann, Furman Sherlock, Edward White
1934: John Adams, Arthur Baumann, Robert Cox, Elmer Crock, Joseph Hittorff (mgr.), Richard Olmstead, Charles Sink, James McQueston
1935: Charles Bardsley, A. Louis Bourgeois, William Boyles (mgr.), Wade Crawford, William Hammell, Newman Hankins, Robert Heppe, Robert Janus, David Kahl, Herman Krattenmaker, Alfred Leech, Edward Malsberger, Edward Moffitt, George Pratt, Walter Reinhard, Sidney Schweim, John Sink, David Smith, Horace Smith, Harvey Thompson
1936: Willard Bisbing, Thomas Doherty (honorary), Fred Fetterolf, Maurice Fisher, Harry Hales, George Hughes, Ted Laux, Douglas McArthur, Albert Ruff, Donald Seitz (honorary), Paul Stewart (honorary), Cecil Taylor, Paul Trainer, Richard Traver
1937: James Beck, Robert Black, William Fountain, Bernard Fulmer, Leon Glowacki, Frank Jakob, Joseph Kirk, Lester Kruse, Russell McLaughlin, Theodore Russell, Willard Schaefer, John Wurster
1938: Edward Estlow, William Fox, Joseph Friedman, George Kachline, William Miller, Elliot Obus (mgr.), James Shock, Jr., William Schweim, James Spillane, LeRoy Stanton, John Yeomans
1939: Richard "Duke" Alexander, Ray Beals, Robert Billings (mgr.), Fred Bohn, Jack DeHaven, Neil Deighan, James Dunlop, Walter Fitzgerald, Lynwood Griffith, David McMillan, Arthur Marvin, Harry Moore, John Munro, W. Byron Riley, Jr., Clifford Seaver, Raymond Sinclair, Jr., J. Francis Smith, B. Russell Strable, Howard Walton, William Wright, John Wurster, Lewis Yerkes
1940: Dick Baker, Ray Beck, Ken Crane, Webster Daniels, Pat Dinella, Harvey Duus, Charles McClure, Walt Motson, Adrian Sauer, William Stevenson, Holland Taylor, Charles Walton, Guy Vance
1941: William Angus, William Beck, Stephen Boyer, Joe Brosic, Frank Danella, John Howard Evans, Carlton Fairchild, John Flack, Wayne Hahn, Samuel Herron, Edward Hughes, Walter Mezger, Ronald Peterson, Robert Reitzler, Donald Stohner, George Talarico, James Taylor, Harold Wales, Hubert Werner, Edward White, John Wilfong
1942: Charles Beck, Donald Bohn, William Bossert, Charles Burns, Frank Flynn, Lou Gilde, Zane Irvine, Joseph Jones, John Mathews, William F. Mitchell, Pat Patchel, Walter Peacock, Joe Pizarro, Frank Powell, Henry Renne, Edward Richards, Clifford Sauer
1943: Fred Boehm, Fred Buenzle, Edward Dager, Robert DeCristofor, Francis Deighan, Richard Deighan, Raymond Dobbs, Wally Dryden, George Fincke, Jr., Richard Frame (mgr.), Walter Hand, Bernard Kocher, Irvin Koszewski, Martin Love, Jr., Don MacGregor, Walter Miller, William F. Mitchell, George Pims, John Price (mgr.), Edward Rudderow, Edward Schneider, Robert Smith, Raymond Springer, Chester Thompson, Herman Trasmondi, Albert Usilton, Robert Young
1944: Arthur Brown, Joseph Carlquest, Earl Cooley, Ken Cooley, Thomas DePaul, Owen Eisenberg, Charles Ensey, Melvin Evans, Franklin Goulburn, Robert Harper, Ralph Helms, Edward Henderson, Donald Hess (mgr.), Owen Kirkbride, Maurice Lewis (mgr.) Charles Lofft, Edward Murphy, Henry Rossell, Wade Weikal, Marvin Wurtzel
1945: William Bantle, Robert Biddle, James Black, Richard Bower, John Bozarth, Charles Brooks, Wallace Brown, Clarence C. Carson, Francis Crist, John Curreri, John Dinella, Walt Fitzpatrick, Carl Danella, Edward Goehring, John Gove, William Gravenstine, Robert Green, Joseph Hagerty, Art Helm, Rodney Hughes, Hank Jaggard, Daniel Kazarian, Bruce Kibblehouse, George Krusen, Fred McCall, Arthur Mathis, Jack Mitchell, Lyle Poots, Jack Salmons, John Trainer, Joseph Westcott, Gardner Whiting, Tony Yanelli
1946: Wendell Anderer, Eivind Barth, Ernest Coulter, Elmer DiNapoli, Joseph Gaudio, Robert Harmon, Joe Hinger, John Hlubb, F.Thomas Janes, Corky Leise, Allen Leslie, John Litzinger, Larry Luongo, George Marino, Raymond Martin, William Munroe, Jacob Naglee, William Osterlund, Thomas Palmer, Walter Reister, Roy Roth, Jack Sherman, John Bruce Waddell
1947: Victor Anderson, Gerard Crist, Mike D'Alessandro, Frank Doran, Jr., Charles Droffner, Charles Elfreth, Victor Falls, Hugh Fingerhut, William Goulburn, Edward Griffith, Walter Harris, David Hill, Robert Hoffman, Harry Keller, Jack Latch, Corky Leise, John Lingo, William Marks, Jr., Arthur McMahon, Edmund McQueston, Richard S, Mead, Jack Murphy, Robert Reeder, Clifton Saxton, Edgar Schilling, Vernon Sheppard, Robert Smith, Donald Snowden, William Sowden, Tom Vernon, Drew Wilson, Jack Woodfield, Ernest Zimmerman
1948: Neil Baylie, Ed Bender, Howard Casey, Lawrence Collings, George Koerner, James Litzinger, Michael Matteo, Elwood McCord, Bruce Middleton, Michael Moffa, Raymond Narleski, Ed Palmer, Frank Schroeder, David Watson, Samuel White
1949: Walter Arndt, William Blankley, William Bozarth, Robert Buchanan, Carman Cosgrove, John Dalton, Elwood "Joe" Deering, Russell Faulkner, William Feather, Francis Fluhrer, James Hankins, Charles Heimbach, Sherwood Joy, Donald Kennedy, Gordon Leslie, Edward Martin (mgr.), Ted Narleski, LeRoy Nicholas, Stanley Nodder, Richard Preston, Robert Purbeck, Edward Schaaf, Robert Schroeder, Joseph Tavani, Roy Thaxton, Edward Vekony, Leon Wack, Ralph Walter, Howard Wintling
1950: Biaggio Addiego, Harry Agnew, Donald Babish, Leo Barber, Robert Baume, Edward Bertholet, Robert Brewin, Steven Capinas, Howard Corriston, Donald DeMartin, Joseph DeMilto, Richard Deniken, William Gaffney, William Gillien, Richard Hessert, John Holcombe, Francis Kelly, J. Fred Kelly, Robert Louderbach, William Lovett, Donald McGiffney, Robert O'Keefe, Jonathan Oorlog, George Schankin, Lawrence Schuman, William Seitz, Robert Sturgis, Philip Tavani, Jr., Joseph Taylor
1951: Frank Bufanio, Walter Bull, Jr., Gary Burdsall, William Cole, George Carney, George Cline, Samuel Dilks, Jr., Donald Douglass, Donald Elfreth, George Franzke, William Godfrey, Gerald Kelly, Franklin Krum, Norman Krusen, Joseph McMahon, Ronnie Munro, John Osler, George Rudderow, Harry Simon, John Smith, Henry Thomas, Robert Thomas, W.D.Thomas, Jr. (mgr.), George Urban, Robert White
1952: John Ash, George Beddall, Matthew Braccio, Eugene Capinas, Haines Davis, Neil Elverson, Robert Ford, George Fuchs, Linton Gilbert, Richard Godfrey, Ronald Hoover, William Johnston, Vito LaMaina, Richard Luongo, Francis Mallgrave, Anthony Masi, William Middleton, Michael Mitchell, Richard Moran, Eugene Pearl, Robert Pine, Lee Radford, William Rosenberg, Thomas Soltys
1953: Arthur Barnes, Joseph Bonsall, Peter Celani, Ross Chatfield, Joseph Cusato, Lewis Davis, Robert Dick, Douglas Gandy, David Goehring, John Hiner, John Horneff, W. Robert Humphries, Robert Jones, William Koble, Ronald Lenox, John Lyons, David McMahon, Henry Mulle, Albert Munda, Ross Munro, Stanley Olsen, Robert Raff, Walter Rudderow, Ronald Schmoll, Charles VanWinkle
1954: Howard Birchmeier, John Bowden, John Clapp, Charles Clark, Stanley Cramer, John Ferner, Edward Lohmiller, William Lyons, John Milloy, John Opplinger, Eugene Orowitz (Michael Landon), John Reinert, Anthony Rizzi, Arthur Rudolph, David Smith, Robert Urban, David VanLeer, Raymond Waters, Alfred Williams, James Winner, Lonnie Clark
1955: David Aron, Joseph Bieksis, G. William Bingham, H. Lee Brown, Ralph Cuccuitti, Francis Dawkins, Anthony DiMarco, Daniel DiMingo, James Doherty, Frank Giordano, Dave Gurtcheff, Robert Hart, Warren Hess, Edward Hinkle, Richard Jackson, Jan Kramar, Frederick LeDonne, Frank Matteo, Walter Melnik, Coleman Miller, James Piper, Jr., Kenneth Redmer, Thaddeus Sikorski, Eugene Soltys, Bruce Steele, Walter Thomas, Joseph Thompson, Harry Williford, Dave Wilson. Thomas Wilson
1956: Robert Abernathy, Jr., Maurice Blumberg, John Caldwell, Robert Catando, Hugh Chatfield, Vincent DiAntonio, Michael Dickerson, Robert Droffner, Thomas Ewing, George Hughes, Jr., Thomas Keating, George Lee, James Lorimer, Gerald Luongo, Heront Marcarian, Thomas McAfee, David Moore, James Patten, James Pharazyn, Jr., Clifton Rubicam, George Sawyer, William Toth, Louis Zank, Robert Zeberlein
1957: Gerard Allgeier, Victor Bellace, Paul Bertholet, Dale Bonsall, Robert Braddock, John Burgess, Thomas Dunn, Paul Erny, Joseph Fittipaldi, James Gailey, Jr., William Hicks, James Ingles, David Johnson, John Kelly, Gerard MacDonald, Burton Marles, William Meister, Eugene Miller, John Renner, William Rogers, Alan Schmoll, Paul Simpson, Frank Toth, John Vernon, Michael Walder, Paul Withers
1958: Robert DiDio, Edward DiMingo, Frederick Fetterolf, Herb Gerstein, William Godwin, Jr., Rundle Hallowell, John Hanling, William J. Harris, W. Scott Harry, William Keller, Robert Kitchin, William Klein, William Lange, Jr., Norman Lochten, Richard Mallard, Victor Manuele, Michael McCourt, John McElvarr, Bruce McGee, James Muckley, A Michael Pavulak, Jr., Albert Riester, Valentine Soltys, Russell Taylor, Robert Welch, Joseph Zenobi
1959: Ronald Bandock, David Boice, Kenneth Casperson, David Crossan, Richard DiDio, Wayne Divis, Frederick Eibell, Richard Fittipaldi, John Ronald Giordano, Gerald Groom, John Hannigan, William Harper, Edward Kelly, Kenneth Koengetter, Thomas Lucas, Gerald Mangano, Dominic Marrocco, E. Allen Maussner, Jr., Robert McAfee, John Reier, William Roecker, Gerald Schrule, Herbert Schwartz, Robert Shepherd, Bruce Smith, Francis Stackenwalt, Lewis Sweigart, Robert Wolfson, Robert Young
1960: David Bardolf, Bruce Brodwater, James Curran, John DiDio, Thomas Dougher, Ronald Frumento, David Haas, John Haines, David Kennedy, S. Van Maussner, Paul McGarrigan, Paul Olsen, Frank Pharazyn, Richard Reis, Warren Riggin, Timothy Rogers, Charles Schaefer, James Shinnick, Charles Steinhauer
1961: Stephen Bandaruk, Norman Dahl, Dennis Dambrowski, Craig Evans, Rodney Farnath, John Hahn, Charles Hallowell, Thomas Hampton, Herbert Holroyd, Howard Hughes, Douglas Jones, Randolph Jones, Jr., Edward Kelly, Lawrence Kelly, Michael Kirsche, Kenneth Landis, Arthur Mangano, Harold Mangold, Richard Marcella, John McHenry, Edward Mitchell, Ronald Myers, Robert Newman, George Olcott, John Parker, Robert Ragone, Howard Richter, Robert Righter, William Schwartz, David Steiler, Robert Tundermann, Thomas Walsh, Ronald Wesley, William Williford, Harry Young, Jr., Ronald Young
1962: Peter Beaty, Arthur Berrigan, Paul Carmody, James Cook, Clifton Disney, James Donaghy, Benjamin Duran, John Duran, Stanley Egbert, Kenneth Gardner, Ronald Heath, John Heppe, James Howat, Allan Jones, Paul Leiser, Bernard Matthews, John Pawlowski, R. Randle Scarborough, J. Richard Schmidt, Frank Tomru, Thomas VanDerslice, Frederick Van Istendal
1963: Bernard Beals, Kenneth Catonella, Arthur Dilworth, Henry Gill, William Hale, Edward Hardwick, Raymond Hawk, Robert Hoyler, Robert Matthiessen, Arthur Milne, William Pincus, Peter Quick, Bruce Redmer, Milton Sink, Robert Snyder, George Strattman, Elton Sullivan, Harry Williams
1964: Charles Amling, Louis Bechtel, Kenneth Bell, Donald Bernhardt, Frederick Bocchino, Douglas Boyd, Kenneth Cline, Donald DeCinque, Roman Depka, Vincent DeRosa, Jeffrey Evans, George Faunce, Joseph Fisler, 3rd, Robert Groom, Cyrus Hawkins, James Hay, Thomas Ianetta, Robert Jefferson, William Kelly, Edwin Landis, Louis Lopez, Charles Mangold, William Marts, Joseph Massi, William McMordie, George Patten, Wayne Paull, Frank Plefka, John Reed, Ronald Sassano, James Seybold, George Shirmer, Joseph Sterban, Ronald Stevenson, David Tundermann, Gregory Vitagliano
1965: David Bocchino, David Caldwell, William Carlucci, Richard Dayton, Carmen DeCinque, Stephan Dinella, James Dodd, Kenneth Eisenhardt, John Gutrtcheff, Herbert Konrad, Craig Liss, Frank Mangano, Alfred Marinelli, Kenneth Menzel, Craig Milnes, Robert Morris, Charles Nichols, Richard Pincus, Theodore Ponto, Robert Powell, Walter Riley III, Thomas Rowand, Robert Shaner, Charles L. Smith, Robert Stevenson, Richard Thompson, Douglas Walter, Meade Warner, Jonathon Woodside, Roger Wuestefeld
1966: Howard Bailey, Bruce Boyer, Robert Chadwick, Malcolm Foster, Donald Hare, Roy Kane, Bruce Kline, Bruce Krueger, Joseph Lacina, Robert MacBride, Louis Maiaroto, Paul Martin, William Montgomery, Robert Moore, William Morris, Arthur Normandin, Peter Pascuzzo, Robert Paul, Michael Quick, Gerald Reis, John Shields, Frank Slack, James Smith, Garry Spong, John Strain, Charles Weissberg, Edward Wolcoff
1967: Deane Ameno, Dennis Auerswold, Scott Bates, Theodore Birchmeier, John Caccia, William Carmody, Andrew Chalako, Craig Cobb, John Conaway, David Cordier, Stephen Dilts, John Dutton, Bruce Ferguson, Edwin Friberg, Charles Gerelus, Robert Gray, George Hare (mgr.), Edward Harris, John Hill, James Ianneta, John Leary, David Mahan (mgr.), John Maxvitat, James Reed (mgr.), William Schmidt, John Sohanchak, Robert Tjian, Leonard Tundermann, Daniel Wilson
1968: William Bailey, Richard Bell, William Bickel, William Durham, Charles Duus, Thomas Grykin, Robert Hutchinson, David Jefferson, William Joseph, Edward Kunkel, Dave Landis, James Leary, David Lummis, Richard Martyn, David McCoslin, Gary McGaurn, Robert Meade, Bart Mueller, Henry Mumma, Gregory Nathan, Christopher Pascuzzo, Robert Pincus, Lawrence Rich, Charles Roney, William "Biff" Roseboro, Gene Saltzgueber, Michael Smack, Ronald Thompson, Michael Tolstoy, Dwight Torigan, Alfred Troncone, David Vanek, Barry Waring, Edward Wolf, Jr., Timothy Wright
1969: Donald Bevan, Winfield Beyea, Alan Bertram, F. Robert Birdsong, Edward Dager, Joseph Dorner, David Gerelus, John Garrity, William Glaser, Franklin Goulburn, William Griffin, Edward Griffith, John Hastings, Thomas Hill, Richard Johnston, John Leo, Robert McGrath, Albert McLean, Carolus Nieman, Salvatore Pizzo, Dale Preiser, Robert Schlereth, John Sink, Gary Smith, Frederick Stevenson, Albert Sutherland, Thomas Thompson, David Whitman, John Wilson
1970: Robert Andrew, Stephen Burke, William Carter, Jr., Stephen DeMarco, Allen Franchi, James Garrity, Clinton Harris, Joseph Hill, Frederick Housel, Andrew Kaufman, Michael Kulak, Charles Leary, Wayne Lewin, Michael Mangan, Donald McFaul, David Milnes, Gregory Murphy, John Parry, Thaddeus Roman, Samuel Rudderow, Gaetano Saccomanno, Steven Schumacher, William Scott Scragg, John Selby, Terrence Sherman, John Stanton, Robert Stanton, Robert Staszewski, Roy Thaxton, Steven Tundermann, Joseph Vogel
1971: William Beatty, William Browning, Stanley Caccia, Ken Burt, Thomas Conroy, Jr., Michael Dambrowski, Mark DeCristofer, Raymond DeRosa, Jr., Joe Donohue, Richard Duffey, Thomas Flint, Gary Koshland, Steven Kurkian, Robert Lewis, Paul Lindoerfer, Ernie Mason, Don McFaul, Joseph Mercantino, Jeffrey Moscicki, Larry Mungioli, John Naglee, Bruce Patterson, Joseph Pedano, Daniel Reilly, James Reilly,William Scherzer, Kurt Schmid, David Sheehan, Richard Staszewski, Lawrence Walsh
1972: Richard Altersitz, David Beatty, Warren Bell, Robert Carelli, Daniel Conaway, Thomas Cousins, Ted Gogol, Scott Heiss, Oscar Hirt, Robert Hunt, Richard Johnson, Patrick Kocher, David Kravitt, Peter Landis, Carl McLaughlin (mgr.), Richard McMillan, Stephen Melson, Richard Mitchell, Charles Montufar, Edward Murphy, William Myers, Jeffrey Smith, Louis Valenti, Richard Young
1973: Thomas Adjerian, Charles Albino, William Anderson, Robert Benevento, Donald Bloomer, Mark Gerelus, Guillermo Gonzalez, John DeMeo, Keith DeSantis, Edward DiVietro, Scott Duus, Erich Eisenhart, Roy Kaiser, John Laggy, Jr., Jonathon Leise, James Hess, Steven Hinkelday, John Holcombe, Jonathon Holmes, John Johnston, Charles Magee, Richard Masden, Timothy McGaurn, William McLaughlin, John Monteleone, William Munyon, Kenneth Pentz, Lawrence Pentz, Michael Pepe, Edward Poland, Henry Rossell, Charles Tripple, Edward Valente, John Warner, John Wilson, Jeffrey Wood
1974: William Akers, Steve Bayruns. Bruce Bernard, Gary Bianchini, Michael Caccia,, Patrick Callaghan, Steve Connors, Howard Creran, Stephen Davidson, Robert Deets, Eugene DiCiano, Alexander DiMitrew, Wesley Evans, Keith Hallowell, John Hargrave, Paul Krueger, Robert Lamson, Nicholas Lapiska, Ralph Logan, George McErlaine, Robert Meyer, Robert Player, Jr., P. Bruce Prutzman, Joseph Wardach, Mark Weber, Joseph Wilkers
1975: Lawrence Beach, Steve Beideman, John Bruno, Mark Chranowski, Joseph Coulter, Ralph Daggan, Steven Duus, John Franklin, Alfred Habina, Neal Heiss, Joseph Jamsky, James Kehoe, William Kennedy, John Klacik, David Kunkel, Gary Lentz, Richard Louis, Jr., Vincent McCrossan, Donald Miner, Michael Ormsby, Steve Potter, Robert Rodriguez, Robert Rupertus, Joseph Sperlunto, Michael McIntyre
1976: Richard Akers, Patric Ciervo, Paul Ciervo, Frederik Dimitrew, Frank Dintino, Steven DiOrio, Scott Ehret, Frank Genther, John King, Bernard Maloney, Brian McIntyre, Stephen McMahon, Charles Moser, Steven Murphy, Michael Pfeffer, Timothy Schmid, Ronald Small, Randall Smith, Linda Stockton (mgr.), Carl Sundberg, Michael Travis, John Watson
1977: Jeffrey Adams, Robert Bailey, Charles Bates, Jr., Curtis Bowman, David Burgo, Dennis Clark, Coleman Cosgrove, Joseph Dinella, Vincent Evangelista, Richard Howley, Russell Kaurloto, Jay Latch, Vernon Leeds, Jr., Louis Mango, Frank Massi, III, Michael Miner, Michael Orr, Joseph Potter, Gregory Rehmus, James Scanish, Daniel Schmid, Stephen Selby, William Shanahan, John Shindle, Neal Sundberg, David Thomas, Frank Trautz, Jeffrey Warner, George Whitney
1978: Timothy Bayruns, Paul Beckley, Glen Bianchini, Romano Catullo, Samuel DeLucia, Adam Frates, Thomas Houck, John Hodson, Ronald Howley, Herbert Leonhardt, Harry Lewis, Richard McLaughlin, Lawrence Moser, Randall Pentz, Steve Umbrell
1979: David Elfreth, Mark Emerling, Peter Ferrara, Justin Frank, Michael Hauck, Michael Kaiser, Chris Law, James Mahney, Terence McGovern, Marc Mecca, Jeff Pedano, Gary St. John, Scott Simpson, Michael Trotter
1980: William Allibone, James Daniels, George DiMetrew, James Fendrick, Mark Franz, Henry Grabert, Wayne Grube, John Hawkey, Paul Howley, Mark Mannel, Dominic Mariani, Mark Mason, Stephen McIntrye, Dane Mohler, Robert Moser, Robert Pfeffer, Robert Schweim, William Schweim, Fredric Spackman, Mark Staszewski, Robert Warren, Charles Weimer
1981: Tracy Baker, John Bayruns, Robert DeCristofor, Christopher Farrell, John Floentino, Michael Giordano, Paul Kibbe, Kenny Kline, Timothy Mahney, David Mauer, Kenvin McGovern, Thomas McIntyre, Joe Neel, John Ogg, Charles Robertson, Glen Schuehler
1982: Scott Aversa, Maurice Ball, John Carvelli, Ralph Filipkowski, David Hall, Richard Hessert, William Hunt, Eric Kaiser, Edward McCullen, Brian Schuehler, Daniel Shefski, Donald Washabough
1983: Michael Allibone, Charles Corson, Warren Danner, Jr., Vincent Garczynski, Jr., Brian Hand, Vincent LaVecchio, Mark C. Leise, Robert Mercer, Paul Sarnese, Mark Scanish, Brian Sears, Patrick Shefski, Stephen Szwajkowski, Robert Torney
1984: Marc Forte, William Franckle IV, Brian Godor, William Hancock, Robert Hawk, Gary Hessert, Joseph Hofacker, Joseph Iezzi, Mark Meloni, Daniel Pancrazio, Scott Sachleben, Mark Teschko, Robert Voigt, Robert Warner
1985: Al Boggs, Gary Carter, Randolph Cella, Joe Convery, Michael Costello, Carl D'Angelo, Richard Dayton, Marty DeNinno, John Fittipaldi, James Giberson, David Lentz, Emido Mariani, Frank Monteleone II, Daniel Powell, Peter Prete, Richard Silver, Matthew Stephenson
1986: William Boggs, Joseph Brzozowski, Michael Sean Conley, Edward J. Correll, James B. Coyle, James Dinges, Frederik J. Frank, Daniel Frey, William R. Gibson, James Holston, Robert D. Neid, John Parkinson, Mathew J. Procida, Carl E. Sanchez, Philip J. Scheets, Jr., Robert W. Shourds, Scott A. Sinclair, John T. Swack, Glenn R. Titus, Henry "Buddy" White
1987: Paul Bentz, Allan Borrelli, James F. Bruno, Joseph Chesmond, Anthony Costello, Joseph A. Farah, Jeffrey Foss, Mike Hancock, Dan Heise, Andy Hutchinson, Richard Lunt, Stan Newell, Mark Standring, Craig Teschko, Dave Walker, Tom Warrington, Anthony Winters
1988: James Alcorn, Thomas Costello, Christopher Davidson, William Day, Derek DeLia, Raymond Dybus, Joseph Gibison, Edward Glaze, Michael Herishko, Kevin Hoban, Bill Lewin, John McConnell, Troy Miles, Gary Moan, Jason Moffett, James Pacera, Harry Prete, Thomas Spavlik, Charles Teagle
1989: Daniel Aydelotte (9), Steven Barrett (9,10,11,12 (captain), Louis Blaum (9), Eric Borrell (9), Jeffrey Brickner (9), Christopher Conley (9), William Coyle (9,10,11,12), Stephen Cronin (12), Matthew Deninno (9), Keith Gibbs (9,10), Allen Goodwin (9,10), Mack Hanna (9), John Henson (9,10), Eric Jones (9), Christopher Karnfonda (9), Tom Lewin (9,10,11,12 (captain), Marc Lilley (9,10,11), Shawn Little (9,10,11,12), Brian Mackie (Mgr.12), Jose Melandez (9), Shawn Miller (9), James Moran (9,10,11), Gordon Miller (9), Rick Pentz (9,10,11,12), Steven Prindle (9), Raymond, Rivera (9,10,11,12), Frank Ross (9), Charles Schaefer (9,10,11,12), Paul Tyner (12), Raymond Viatte (9), John Vogelsong (9,10,11,12)
1990: Antrili, Charles 9,10,11,12 Antrilli, Joseph 9,10, 11, 12 Antrilli, Thomas 9,10,11,12 Barrott, Sean 9 Bland, Michael 10,11,12 Broccoli, Christopher 10,11,12 Campbell, Gary 9,10,12 Clark, Edward 9 Corboy, William 11,12 Dybus, Ronald 12 Filinuk, Joseph 9,10,11,12Genarie, Gary 9 Haigh, Richard 9 Halscheid, Christopher 10Henry, David 11 Macccarilla, Thomas 9 Messer Michael 10 Nieczpiel, William 11 Schuehler, Craig 9,10,11,12 Taulane, Michael 9,10,11,12 Tenuto, Frank 9,10 Wallace, Darren 10,11,12 Warrington, Timothy 9,11,12
1991: Alcorn, James 9,10,11,12 Anderson, William 9,10 Hartshaw, Thomas 9,10,11,12 Kovalevich, Keith 9 LaBar, Michael 9 Laub, Michael 9 Leizerowicz, Brian 9 McConaghy, Brian 9 Morrison, Edward 9,10 Nieves, Hector 9 Olsen, Mario 9 Sanborn, Richard 9,10Schaffer, Brian 9 Schaffer, Robert 9,10,11,12
Collingswood Football Athletes
(Listed by year of graduation, Captains highlighted in bold)

Prior to 1910 Lloyd Haney, William Flynn, Thomas Clevenger, Houseman Kille, Harry Stout, Herbert Schooley, Walter Scott, Albert Usilton, Warren Maneak, Buchanan, William J. Clevenger and Clarence MacNelly.
1910 (Competition took place at White Horse Pike and Collings Avenue (where the Sutton Apartments now stand) (not well organized, schedules arranged by somebody on the team.) T. Russell Clevenger, Walter J. Scott, Herbert Schooley, Harold Nace, Houseman Kille, William Flynn, Lloyd Haney, Albert Usilton, Warren Maneak, Wesley Jack, Clarence MacNelly, Reds Raynor, Ketcham (first name not known), Buchanan, William Clevenger, Albert Cromwell and Harold Vennell. Robert Shields
1911 Albert Usilton,
1912 (Wesley Jack, Walter Scott, Russell Clevenger, Herb Schooley, Thomas Williams, Royal Smith, Allen Temple, Harold Nace, Thomas Clevenger, Houseman Kille, William Flynn, Lloyd Haney, Albert Usilton, Warren Maneak, Clarence MacNelly, Reds Raynor, Buchanan, William Clevenger, Harry Stout, Ketcham, Albert Cromwell, Harold Vennell, Allen Temple
1913 (Robert Shields,
1914 (Robert Shields, Raymond Wiliams, Paul Brauer, Edwin Mills,
1915 (Paul "Shorty" Brauer, Elmer Carll, Jack Mayo, Ralph Wright
1916 (Paul Brauer, Elmer Carll, George Warfield, Raymond Williams, Ralph Wright, Claude Campbell
1917 (Ralph Wright, Philip Dickle, Carroll Thomas, Edward Campbell, William Bartolet, Claude Simon, William Miller, Louis Bernheisel, Harold Anderson, Curtis Holten, Ralph Wright, Henry Evans, Gordon Avil, Irving Stagmer
1918 (Ralph Kelling, Harold Anderson, Curtis Holten (Mgr.), Gordon Avil, Thomas Fanelli, Howard Miller, Joseph DeFrates, Louis Bernheisel, Clarence Kinkade, Robert Chandler, George Kohlhiend, Emerson Bird, Irving Stagmer, Harold Egan, Edmund Hessert, Russell Clevenger,
(Enter Howard "Skeets" Irvine, football coach for the next 30 years)
1920 (Edgar G. Warren, Captain, Raymond Brierly, Harry Nichols, Jones, Howard Roberts, Robert Wilkins, Eynon, Edward (Thomas?) Strahan, Bronson Stagmer, Harold Weidman, James Pickens
1922 (Frank Conerton 4, Ronald Emmott, Mgr. 4, John Fessman 3,4 Harry Grossman 3, R. Stanford Hudson 3, 4 Lynn Jones 3,4 Persifor Keenan 3, Howard Roberts 2,3,4 George Snell 3, Howard Tilton 3, Eugene Parks Vandeekleed 4, William Weidman 3,4 William Charles Williams 3, 4
1923 (Chase, Slim Hood, Robert Wilkins (Capt.), Harry Nichols, Thomas Cornbrooks, Chase Jolly, Chick Reinert, Vernon Nichols, Mike Teegan, James Knecht, Harold Bryant, Maron Miller, Clarence Fay, "Pud" Morris, Russ, Crevey
1924 (Thomas Cornbrooks 2, 3, 4 Clarence Fay, 4 James Knecht 3, 4, Harry Nichols 1,2,3,4 Field Ringgold 4, Wiliam Turnbull 3 mgr., Lewis Zeyher 3,4,mgr., Robert Wilkins 1,2,3,4 Robert Mohrfeld 4, Harold Bryant 2,3,4
1925 (Harrison Boggs 4, Kenneth Brenner 3, Lincoln Brown 2,3, Horace Johnston 4, John Magill 12, Jack Moran 2,4, Edward Pickens 4 Charles Zeugner 3,4 Robert Creighton 4,Elmer Hood 3, 4
1926 (Thaler Beddall 3, Harold Fortiner 2, Clifford Galbraith 3, 4 Elmer Griffeth 4, Charles Hartle 4, Burdelle Hawk 3, W. Leonard Johnston 3, John Knecht 4 mgr., Richard Knepper 4, Arthur Milnamow 2, 3, Alex Robb 3, 4, Matthew Van Istendal Jr. 2,3, Malvin Harry Weeks, Jr. 4, Alan Maclary 4, Clifton Rubicam
1927 (Oliver George Billings, Jr. 3, Raymond Carty 3, James Danser 4
George Dawson 1,2,3,4, William Graupner 3, 4, Lester Haik 2, Lester Hannum 4, James Hayney 4, William Hornyak 4, Calvin Hughes Jr. 4, Benjamin Kliger 4, John Krisher 2, 3, Allen Mills 2, Oswald Minot 2,3,4, Frank Peterson 1,2, William Teall 4 mgr., Wallace James Trumbower 2,3,4, Walter Watson 3,4, Charles Webb 1,2,3,4
1928 (George Chism 3,4, Haines Davis 4, James Davis 3,4 Frederick Kane 2,3,4 Joseph Kopp 3,4 William Saunders 4, Charles Tully 4, Harry Waibel 4, Harry"Rosy" Young 1,2,3,4 Wilbur Phillips 4, Louis Feinstein 4, Leonard Cheibelhut 3,4 James Kooker, Mgr., Al Minot, Ralph Rhinehart Chub Seeman, John "Reds' McCaffrey, Tom McLaughlin, Clifford Knepper, Kurt Volk, Herbert Voight, Harold "Hut" Larsen, Fred Van Istendal
1929 (Nelson Duerr, Walter Ibbekin, James Kelly, Clifford Knepper, Mgr., James Kooker, Mgr., Charles Lore, Thomas McLaughlin, Fred Millenbaugh, Warren Moll, William Russell, Joseph Seeman, Fred Van Istendal, William Willard, Carlton Peacock, Ralph Rhinehart, Harry George, Eldridge Downes, Harold "Hut" Larsen, Paul Buffler, Bruce Steele
1930 (Alden Davis, Jr., 3,4, Joseph Haih 3,4, Seaford Fox Jackson, Harold "Hut" Larson, Karl S. Russell, Edward Schueneman, William Willard, Capt., James Williams, Eldridge Downs, Capt., Bill Conover, Bruce Steele,Jack Earle, Tom Lennox, Harold "Hut" Larsen, Eldridge Downes, Bill Davis, Newton Mathis, Ralph Rheinhard
1931: Addis Bowles, Vincent Bradford, William Conover, James Cranmer, David Danser, Eldridge Docones III, Norman Hughes, Lane McBurney, Newton Mathis, W. Robert Robotham, William Shultz, J. Stuart Ware, Earl Wert
1932: Bernard Beals, Henry Boenning, Eugene Bradford, Calvin Chase, Richard Corvin, Jack Earle, Frank Folcher, Harold Hughes, Ralph Hughes, Ralph Ibbeken, Bryant Jefferson, Edwin Larson, William McCarthy, Fred Martin, Jack Molthop, Robert Phillips, Charles Potteiger, Samuel Rogers, Irving Schwartz, Gerald Seeman, Jack Taylor (mgr.), Charles Thompson
1933: John Carr, Robert George, John Oliver Gluyas, Howard Lafferty, Robert Schuenemann, Furman Sherlock, Edward White
1934: John Adams, Arthur Baumann, Robert Cox, Elmer Crock, Joseph Hittorff (mgr.), Richard Olmstead, Charles Sink, James McQueston
1935: Charles Bardsley, A. Louis Bourgeois, William Boyles (mgr.), Wade Crawford, William Hammell, Newman Hankins, Robert Heppe, Robert Janus, David Kahl, Herman Krattenmaker, Alfred Leech, Edward Malsberger, Edward Moffitt, George Pratt, Walter Reinhard, Sidney Schweim, John Sink, David Smith, Horace Smith, Harvey Thompson
1936: Willard Bisbing, Thomas Doherty (honorary), Fred Fetterolf, Maurice Fisher, Harry Hales, George Hughes, Ted Laux, Douglas McArthur, Albert Ruff, Donald Seitz (honorary), Paul Stewart (honorary), Cecil Taylor, Paul Trainer, Richard Traver
1937: James Beck, Robert Black, William Fountain, Bernard Fulmer, Leon Glowacki, Frank Jakob, Joseph Kirk, Lester Kruse, Russell McLaughlin, Theodore Russell, Willard Schaefer, John Wurster
1938: Edward Estlow, William Fox, Joseph Friedman, George Kachline, William Miller, Elliot Obus (mgr.), James Shock, Jr., William Schweim, James Spillane, LeRoy Stanton, John Yeomans
1939: Richard "Duke" Alexander, Ray Beals, Robert Billings (mgr.), Fred Bohn, Jack DeHaven, Neil Deighan, James Dunlop, Walter Fitzgerald, Lynwood Griffith, David McMillan, Arthur Marvin, Harry Moore, John Munro, W. Byron Riley, Jr., Clifford Seaver, Raymond Sinclair, Jr., J. Francis Smith, B. Russell Strable, Howard Walton, William Wright, John Wurster, Lewis Yerkes
1940: Dick Baker, Ray Beck, Ken Crane, Webster Daniels, Pat Dinella, Harvey Duus, Charles McClure, Walt Motson, Adrian Sauer, William Stevenson, Holland Taylor, Charles Walton, Guy Vance
1941: William Angus, William Beck, Stephen Boyer, Joe Brosic, Frank Danella, John Howard Evans, Carlton Fairchild, John Flack, Wayne Hahn, Samuel Herron, Edward Hughes, Walter Mezger, Ronald Peterson, Robert Reitzler, Donald Stohner, George Talarico, James Taylor, Harold Wales, Hubert Werner, Edward White, John Wilfong
1942: Charles Beck, Donald Bohn, William Bossert, Charles Burns, Frank Flynn, Lou Gilde, Zane Irvine, Joseph Jones, John Mathews, William F. Mitchell, Pat Patchel, Walter Peacock, Joe Pizarro, Frank Powell, Henry Renne, Edward Richards, Clifford Sauer
1943: Fred Boehm, Fred Buenzle, Edward Dager, Robert DeCristofor, Francis Deighan, Richard Deighan, Raymond Dobbs, Wally Dryden, George Fincke, Jr., Richard Frame (mgr.), Walter Hand, Bernard Kocher, Irvin Koszewski, Martin Love, Jr., Don MacGregor, Walter Miller, William F. Mitchell, George Pims, John Price (mgr.), Edward Rudderow, Edward Schneider, Robert Smith, Raymond Springer, Chester Thompson, Herman Trasmondi, Albert Usilton, Robert Young
1944: Arthur Brown, Joseph Carlquest, Earl Cooley, Ken Cooley, Thomas DePaul, Owen Eisenberg, Charles Ensey, Melvin Evans, Franklin Goulburn, Robert Harper, Ralph Helms, Edward Henderson, Donald Hess (mgr.), Owen Kirkbride, Maurice Lewis (mgr.) Charles Lofft, Edward Murphy, Henry Rossell, Wade Weikal, Marvin Wurtzel
1945: William Bantle, Robert Biddle, James Black, Richard Bower, John Bozarth, Charles Brooks, Wallace Brown, Clarence C. Carson, Francis Crist, John Curreri, John Dinella, Walt Fitzpatrick, Carl Danella, Edward Goehring, John Gove, William Gravenstine, Robert Green, Joseph Hagerty, Art Helm, Rodney Hughes, Hank Jaggard, Daniel Kazarian, Bruce Kibblehouse, George Krusen, Fred McCall, Arthur Mathis, Jack Mitchell, Lyle Poots, Jack Salmons, John Trainer, Joseph Westcott, Gardner Whiting, Tony Yanelli
1946: Wendell Anderer, Eivind Barth, Ernest Coulter, Elmer DiNapoli, Joseph Gaudio, Robert Harmon, Joe Hinger, John Hlubb, F.Thomas Janes, Corky Leise, Allen Leslie, John Litzinger, Larry Luongo, George Marino, Raymond Martin, William Munroe, Jacob Naglee, William Osterlund, Thomas Palmer, Walter Reister, Roy Roth, Jack Sherman, John Bruce Waddell
1947: Victor Anderson, Gerard Crist, Mike D'Alessandro, Frank Doran, Jr., Charles Droffner, Charles Elfreth, Victor Falls, Hugh Fingerhut, William Goulburn, Edward Griffith, Walter Harris, David Hill, Robert Hoffman, Harry Keller, Jack Latch, Corky Leise, John Lingo, William Marks, Jr., Arthur McMahon, Edmund McQueston, Richard S, Mead, Jack Murphy, Robert Reeder, Clifton Saxton, Edgar Schilling, Vernon Sheppard, Robert Smith, Donald Snowden, William Sowden, Tom Vernon, Drew Wilson, Jack Woodfield, Ernest Zimmerman
1948: Neil Baylie, Ed Bender, Howard Casey, Lawrence Collings, George Koerner, James Litzinger, Michael Matteo, Elwood McCord, Bruce Middleton, Michael Moffa, Raymond Narleski, Ed Palmer, Frank Schroeder, David Watson, Samuel White
1949: Walter Arndt, William Blankley, William Bozarth, Robert Buchanan, Carman Cosgrove, John Dalton, Elwood "Joe" Deering, Russell Faulkner, William Feather, Francis Fluhrer, James Hankins, Charles Heimbach, Sherwood Joy, Donald Kennedy, Gordon Leslie, Edward Martin (mgr.), Ted Narleski, LeRoy Nicholas, Stanley Nodder, Richard Preston, Robert Purbeck, Edward Schaaf, Robert Schroeder, Joseph Tavani, Roy Thaxton, Edward Vekony, Leon Wack, Ralph Walter, Howard Wintling
1950: Biaggio Addiego, Harry Agnew, Donald Babish, Leo Barber, Robert Baume, Edward Bertholet, Robert Brewin, Steven Capinas, Howard Corriston, Donald DeMartin, Joseph DeMilto, Richard Deniken, William Gaffney, William Gellien, Richard Hessert, John Holcombe, Francis Kelly, J. Fred Kelly, Robert Louderbach, William Lovett, Donald McGiffney, Robert O'Keefe, Jonathan Oorlog, George Schankin, Lawrence Schuman, William Seitz, Robert Sturgis, Philip Tavani, Jr., Joseph Taylor
1951: Frank Bufanio, Walter Bull, Jr., Gary Burdsall, William Cole, George Carney, George Cline, Samuel Dilks, Jr., Donald Douglass, Donald Elfreth, George Franzke, William Godfrey, Gerald Kelly, Franklin Krum, Norman Krusen, Joseph McMahon, Ronnie Munro, John Osler, George Rudderow, Harry Simon, John Smith, Henry Thomas, Robert Thomas, W.D.Thomas, Jr. (mgr.), George Urban, Robert White
1952: John Ash, George Beddall, Matthew Braccio, Eugene Capinas, Haines Davis, Neil Elverson, Robert Ford, George Fuchs, Linton Gilbert, Richard Godfrey, Ronald Hoover, William Johnston, Vito LaMaina, Richard Luongo, Francis Mallgrave, Anthony Masi, William Middleton, Michael Mitchell, Richard Moran, Eugene Pearl, Robert Pine, Lee Radford, William Rosenberg, Thomas Soltys
1953: Arthur Barnes, Joseph Bonsall, Peter Celani, Ross Chatfield, Joseph Cusato, Lewis Davis, Robert Dick, Douglas Gandy, David Goehring, John Hiner, John Horneff, W. Robert Humphries, Robert Jones, William Koble, Ronald Lenox, John Lyons, David McMahon, Henry Mulle, Albert Munda, Ross Munro, Stanley Olsen, Robert Raff, Walter Rudderow, Ronald Schmoll, Charles VanWinkle
1954: Howard Birchmeier, John Bowden, John Clapp, Charles Clark, Stanley Cramer, John Ferner, Edward Lohmiller, William Lyons, John Milloy, John Opplinger, Eugene Orowitz (Michael Landon), John Reinert, Anthony Rizzi, Arthur Rudolph, David Smith, Robert Urban, David VanLeer, Raymond Waters, Alfred Williams, James Winner, Lonnie Clark
1955: David Aron, Joseph Bieksis, G. William Bingham, H. Lee Brown, Ralph Cuccuitti, Francis Dawkins, Anthony DiMarco, Daniel DiMingo, James Doherty, Frank Giordano, Dave Gurtcheff, Robert Hart, Warren Hess, Edward Hinkle, Richard Jackson, Jan Kramar, Frederick LeDonne, Frank Matteo, Walter Melnik, Coleman Miller, James Piper, Jr., Kenneth Redmer, Thaddeus Sikorski, Eugene Soltys, Bruce Steele, Walter Thomas, Joseph Thompson, Harry Williford, Dave Wilson. Thomas Wilson
1956: Robert Abernathy, Jr., Maurice Blumberg, John Caldwell, Robert Catando, Hugh Chatfield, Vincent DiAntonio, Michael Dickerson, Robert Droffner, Thomas Ewing, George Hughes, Jr., Thomas Keating, George Lee, James Lorimer, Gerald Luongo, Heront Marcarian, Thomas McAfee, David Moore, James Patten, James Pharazyn, Jr., Clifton Rubicam, George Sawyer, William Toth, Louis Zank, Robert Zeberlein
1957: Gerard Allgeier, Victor Bellace, Paul Bertholet, Dale Bonsall, Robert Braddock, John Burgess, Thomas Dunn, Paul Erny, Joseph Fittipaldi, James Gailey, Jr., William Hicks, James Ingles, David Johnson, John Kelly, Gerard MacDonald, Burton Marles, William Meister, Eugene Miller, John Renner, William Rogers, Alan Schmoll, Paul Simpson, Frank Toth, John Vernon, Michael Walder, Paul Withers
1958: Robert DiDio, Edward DiMingo, Frederick Fetterolf, Herb Gerstein, William Godwin, Jr., Rundle Hallowell, John Hanling, William J. Harris, W. Scott Harry, William Keller, Robert Kitchin, William Klein, William Lange, Jr., Norman Lochten, Richard Mallard, Victor Manuele, Michael McCourt, John McElvarr, Bruce McGee, James Muckley, A Michael Pavulak, Jr., Albert Riester, Valentine Soltys, Russell Taylor, Robert Welch, Joseph Zenobi
1959: Ronald Bandock, David Boice, Kenneth Casperson, David Crossan, Richard DiDio, Wayne Divis, Frederick Eibell, Richard Fittipaldi, John Ronald Giordano, Gerald Groom, John Hannigan, William Harper, Edward Kelly, Kenneth Koengetter, Thomas Lucas, Gerald Mangano, Dominic Marrocco, E. Allen Maussner, Jr., Robert McAfee, John Reier, William Roecker, Gerald Schrule, Herbert Schwartz, Robert Shepherd, Bruce Smith, Francis Stackenwalt, Lewis Sweigart, Robert Wolfson, Robert Young
1960: David Bardolf, Bruce Brodwater, James Curran, John DiDio, Thomas Dougher, Ronald Frumento, David Haas, John Haines, David Kennedy, S. Van Maussner, Paul McGarrigan, Paul Olsen, Frank Pharazyn, Richard Reis, Warren Riggin, Timothy Rogers, Charles Schaefer, James Shinnick, Charles Steinhauer
1961: Stephen Bandaruk, Norman Dahl, Dennis Dambrowski, Craig Evans, Rodney Farnath, John Hahn, Charles Hallowell, Thomas Hampton, Herbert Holroyd, Howard Hughes, Douglas Jones, Randolph Jones, Jr., Edward Kelly, Lawrence Kelly, Michael Kirsche, Kenneth Landis, Arthur Mangano, Harold Mangold, Richard Marcella, John McHenry, Edward Mitchell, Ronald Myers, Robert Newman, George Olcott, John Parker, Robert Ragone, Howard Richter, Robert Righter, William Schwartz, David Steiler, Robert Tundermann, Thomas Walsh, Ronald Wesley, William Williford, Harry Young, Jr., Ronald Young
1962: Peter Beaty, Arthur Berrigan, Paul Carmody, James Cook, Clifton Disney, James Donaghy, Benjamin Duran, John Duran, Stanley Egbert, Kenneth Gardner, Ronald Heath, John Heppe, James Howat, Allan Jones, Paul Leiser, Bernard Matthews, John Pawlowski, R. Randle Scarborough, J. Richard Schmidt, Frank Tomru, Thomas VanDerslice, Frederick Van Istendal
1963: Bernard Beals, Kenneth Catonella, Arthur Dilworth, Henry Gill, William Hale, Edward Hardwick, Raymond Hawk, Robert Hoyler, Robert Matthiessen, Arthur Milne, William Pincus, Peter Quick, Bruce Redmer, Milton Sink, Robert Snyder, George Strattman, Elton Sullivan, Harry Williams
1964: Charles Amling, Louis Bechtel, Kenneth Bell, Donald Bernhardt, Frederick Bocchino, Douglas Boyd, Kenneth Cline, Donald DeCinque, Roman Depka, Vincent DeRosa, Jeffrey Evans, George Faunce, Joseph Fisler, 3rd, Robert Groom, Cyrus Hawkins, James Hay, Thomas Ianetta, Robert Jefferson, William Kelly, Edwin Landis, Louis Lopez, Charles Mangold, William Marts, Joseph Massi, William McMordie, George Patten, Wayne Paull, Frank Plefka, John Reed, Ronald Sassano, James Seybold, George Shirmer, Joseph Sterban, Ronald Stevenson, David Tundermann, Gregory Vitagliano
1965: David Bocchino, David Caldwell, William Carlucci, Richard Dayton, Carmen DeCinque, Stephan Dinella, James Dodd, Kenneth Eisenhardt, John Gutrtcheff, Herbert Konrad, Craig Liss, Frank Mangano, Alfred Marinelli, Kenneth Menzel, Craig Milnes, Robert Morris, Charles Nichols, Richard Pincus, Theodore Ponto, Robert Powell, Walter Riley III, Thomas Rowand, Robert Shaner, Charles L. Smith, Robert Stevenson, Richard Thompson, Douglas Walter, Meade Warner, Jonathon Woodside, Roger Wuestefeld
1966: Howard Bailey, Bruce Boyer, Robert Chadwick, Malcolm Foster, Donald Hare, Roy Kane, Bruce Kline, Bruce Krueger, Joseph Lacina, Robert MacBride, Louis Maiaroto, Paul Martin, William Montgomery, Robert Moore, William Morris, Arthur Normandin, Peter Pascuzzo, Robert Paul, Michael Quick, Gerald Reis, John Shields, Frank Slack, James Smith, Garry Spong, John Strain, Charles Weissberg, Edward Wolcoff
1967: Deane Ameno, Dennis Auerswold, Scott Bates, Theodore Birchmeier, John Caccia, William Carmody, Andrew Chalako, Craig Cobb, John Conaway, David Cordier, Stephen Dilts, John Dutton, Bruce Ferguson, Edwin Friberg, Charles Gerelus, Robert Gray, George Hare (mgr.), Edward Harris, John Hill, James Ianneta, John Leary, David Mahan (mgr.), John Maxvitat, James Reed (mgr.), William Schmidt, John Sohanchak, Robert Tjian, Leonard Tundermann, Daniel Wilson
1968: William Bailey, Richard Bell, William Bickel, William Durham, Charles Duus, Thomas Grykin, Robert Hutchinson, David Jefferson, William Joseph, Edward Kunkel, Dave Landis, James Leary, David Lummis, Richard Martyn, David McCoslin, Gary McGaurn, Robert Meade, Bart Mueller, Henry Mumma, Gregory Nathan, Christopher Pascuzzo, Robert Pincus, Lawrence Rich, Charles Roney, William "Biff" Roseboro, Gene Saltzgueber, Michael Smack, Ronald Thompson, Michael Tolstoy, Dwight Torigan, Alfred Troncone, David Vanek, Barry Waring, Edward Wolf, Jr., Timothy Wright
1969: Donald Bevan, Winfield Beyea, Alan Bertram, F. Robert Birdsong, Edward Dager, Joseph Dorner, David Gerelus, John Garrity, William Glaser, Franklin Goulburn, William Griffin, Edward Griffith, John Hastings, Thomas Hill, Richard Johnston, John Leo, Robert McGrath, Albert McLean, Carolus Nieman, Salvatore Pizzo, Dale Preiser, Robert Schlereth, John Sink, Gary Smith, Frederick Stevenson, Albert Sutherland, Thomas Thompson, David Whitman, John Wilson
1970: Robert Andrew, Stephen Burke, William Carter, Jr., Stephen DeMarco, Allen Franchi, James Garrity, Clinton Harris, Joseph Hill, Frederick Housel, Andrew Kaufman, Michael Kulak, Charles Leary, Wayne Lewin, Michael Mangan, Donald McFaul, David Milnes, Gregory Murphy, John Parry, Thaddeus Roman, Samuel Rudderow, Gaetano Saccomanno, Steven Schumacher, William Scott Scragg, John Selby, Terrence Sherwin, John Stanton, Robert Stanton, Robert Staszewski, Roy Thaxton, Steven Tundermann, Joseph Vogel
1971: William Beatty, William Browning, Stanley Caccia, Ken Burt, Thomas Conroy, Jr., Michael Dambrowski, Mark DeCristofer, Raymond DeRosa, Jr., Joe Donohue, Richard Duffey, Thomas Flint, Gary Koshland, Steven Kurkian, Robert Lewis, Paul Lindoerfer, Ernie Mason, Don McFaul, Joseph Mercantino, Jeffrey Moscicki, Larry Mungioli, John Naglee, Bruce Patterson, Joseph Pedano, Daniel Reilly, James Reilly,William Scherzer, Kurt Schmid, David Sheehan, Richard Staszewski, Lawrence Walsh
1972: Richard Altersitz, David Beatty, Warren Bell, Robert Carelli, Daniel Conaway, Thomas Cousins, Ted Gogol, Scott Heiss, Oscar Hirt, Robert Hunt, Richard Johnson, Patrick Kocher, David Kravitt, Peter Landis, Carl McLaughlin (mgr.), Richard McMillan, Stephen Melson, Richard Mitchell, Charles Montufar, Edward Murphy, William Myers, Jeffrey Smith, Louis Valenti, Richard Young
1973: Thomas Adjerian, Charles Albino, William Anderson, Robert Benevento, Donald Bloomer, Mark Gerelus, Guillermo Gonzalez, John DeMeo, Keith DeSantis, Edward DiVietro, Scott Duus, Erich Eisenhart, Roy Kaiser, John Laggy, Jr., Jonathon Leise, James Hess, Steven Hinkelday, John Holcombe, Jonathon Holmes, John Johnston, Charles Magee, Richard Masden, Timothy McGaurn, William McLaughlin, John Monteleone, William Munyon, Kenneth Pentz, Lawrence Pentz, Michael Pepe, Edward Poland, Henry Rossell, Jr., Charles Tripple, Edward Valente, John Warner, John Wilson, Jeffrey Wood
1974: William Akers, Steve Bayruns. Bruce Bernard, Gary Bianchini, Michael Caccia,, Patrick Callaghan, Steve Connors, Howard Creran, Stephen Davidson, Robert Deets, Eugene DiCiano, Alexander DiMitrew, Wesley Evans, Keith Hallowell, John Hargrave, Paul Krueger, Robert Lamson, Nicholas Lapiska, Ralph Logan, George McErlaine, Robert Meyer, Robert Player, Jr., P. Bruce Prutzman, Joseph Wardach, Mark Weber, Joseph Wilkers
1975: Lawrence Beach, Steve Beideman, John Bruno, Mark Chranowski, Joseph Coulter, Ralph Daggan, Steven Duus, John Franklin, Alfred Habina, Neal Heiss, Joseph Jamsky, James Kehoe, William Kennedy, John Klacik, David Kunkel, Gary Lentz, Richard Louis, Jr., Vincent McCrossan, Donald Miner, Michael Ormsby, Steve Potter, Robert Rodriguez, Robert Rupertus, Joseph Sperlunto, Michael McIntyre
1976: Richard Akers, Patric Ciervo, Paul Ciervo, Frederik Dimitrew, Frank Dintino, Steven DiOrio, Scott Ehret, Frank Genther, John King, Bernard Maloney, Brian McIntyre, Stephen McMahon, Charles Moser, Steven Murphy, Michael Pfeffer, Timothy Schmid, Ronald Small, Randall Smith, Linda Stockton (mgr.), Carl Sundberg, Michael Travis, John Watson
1977: Jeffrey Adams, Robert Bailey, Charles Bates, Jr., Curtis Bowman, David Burgo, Dennis Clark, Coleman Cosgrove, Joseph Dinella, Vincent Evangelista, Richard Howley, Russell Kaurloto, Jay Latch, Vernon Leeds, Jr., Louis Mango, Frank Massi, III, Michael Miner, Michael Orr, Joseph Potter, Gregory Rehmus, James Scanish, Daniel Schmid, Stephen Selby, William Shanahan, John Shindle, Neal Sundberg, David Thomas, Frank Trautz, Jeffrey Warner, George Whitney
1978: Timothy Bayruns, Paul Beckley, Glen Bianchini, Romano Catullo, Samuel DeLucia, Adam Frates, Thomas Houck, John Hodson, Ronald Howley, Herbert Leonhardt, Harry Lewis, Richard McLaughlin, Lawrence Moser, Randall Pentz, Steve Umbrell
1979: David Elfreth, Mark Emerling, Peter Ferrara, Justin Frank, Michael Hauck, Michael Kaiser, Chris Law, James Mahney, Terence McGovern, Marc Mecca, Jeff Pedano, Gary St. John, Scott Simpson, Michael Trotter
1980: William Allibone, James Daniels, George DiMetrew, James Fendrick, Mark Franz, Henry Grabert, Wayne Grube, John Hawkey, Paul Howley, Mark Mannel, Dominic Mariani, Mark Mason, Stephen McIntrye, Dane Mohler, Robert Moser, Robert Pfeffer, Robert Schweim, William Schweim, Fredric Spackman, Mark Staszewski, Robert Warren, Charles Weimer
1981: Tracy Baker, John Bayruns, Robert DeCristofor, Christopher Farrell, John Floentino, Michael Giordano, Paul Kibbe, Kenny Kline, Timothy Mahney, David Mauer, Kenvin McGovern, Thomas McIntyre, Joe Neel, John Ogg, Charles Robertson, Glen Schuehler
1982: Scott Aversa, Maurice Ball, John Carvelli, Ralph Filipkowski, David Hall, Richard Hessert, William Hunt, Eric Kaiser, Edward McCullen, Brian Schuehler, Daniel Shefski, Donald Washabough
1983: Michael Allibone, Charles Corson, Warren Danner, Jr., Vincent Garczynski, Jr., Brian Hand, Vincent LaVecchio, Mark C. Leise, Robert Mercer, Paul Sarnese, Mark Scanish, Brian Sears, Patrick Shefski, Stephen Szwajkowski, Robert Torney
1984: Marc Forte, William Franckle IV, Brian Godor, William Hancock, Robert Hawk, Gary Hessert, Joseph Hofacker, Joseph Iezzi, Mark Meloni, Daniel Pancrazio, Scott Sachleben, Mark Teschko, Robert Voigt, Robert Warner
1985: Al Boggs, Gary Carter, Randolph Cella, Joe Convery, Michael Costello, Carl D'Angelo, Richard Dayton, Marty DeNinno, John Fittipaldi, James Giberson, David Lentz, Emido Mariani, Frank Monteleone II, Daniel Powell, Peter Prete, Richard Silver, Matthew Stephenson
1986: William Boggs, Joseph Brzozowski, Michael Sean Conley, Edward J. Correll, James B. Coyle, James Dinges, Frederik J. Frank, Daniel Frey, William R. Gibson, James Holston, Robert D. Neid, John Parkinson, Mathew J. Procida, Carl E. Sanchez, Philip J. Scheets, Jr., Robert W. Shourds, Scott A. Sinclair, John T. Swack, Glenn R. Titus, Henry "Buddy" White
1987: Paul Bentz, Allan Borrelli, James F. Bruno, Joseph Chesmond, Jeff Clauso, Anthony Costello, Joseph A. Farah, Jeffrey Foss, Mike Hancock, Dan Heise, Andy Hutchinson, Richard Lunt, Stan Newell, Mark Standring, Craig Teschko, Dave Walker, Tom Warrington, Anthony Winters
1988: James Alcorn, Thomas Costello, Christopher Davidson, William Day, Derek DeLia, Raymond Dybus, Joseph Gibison, Edward Glaze, Michael Herishko, Kevin Hoban, Bill Lewin, John McConnell, Troy Miles, Gary Moan, Jason Moffett, James Pacera, Harry Prete, Thomas Spavlik, Charles Teagle
1989: Daniel Aydelotte (9), Steven Barrett (9,10,11,12 (captain), Louis Blaum (9), Eric Borrell (9), Jeffrey Brickner (9), Christopher Conley (9), William Coyle (9,10,11,12), Stephen Cronin (12), Matthew Deninno (9), Keith Gibbs (9,10), Allen Goodwin (9,10), Mack Hanna (9), John Henson (9,10), Eric Jones (9), Christopher Karnfonda (9), Tom Lewin (9,10,11,12 (captain), Marc Lilley (9,10,11), Shawn Little (9,10,11,12), Brian Mackie (Mgr.12), Jose Melandez (9), Shawn Miller (9), James Moran (9,10,11), Gordon Miller (9), Rick Pentz (9,10,11,12), Steven Prindle (9), Raymond, Rivera (9,10,11,12), Frank Ross (9), Charles Schaefer (9,10,11,12), Paul Tyner (12), Raymond Viatte (9), John Vogelsong (9,10,11,12)
1990: Antrili, Charles 9,10,11,12 Antrilli, Joseph 9,10, 11, 12 Antrilli, Thomas 9,10,11,12 Barrott, Sean 9 Bland, Michael 10,11,12 Broccoli, Christopher 10,11,12 Campbell, Gary 9,10,12 Clark, Edward 9 Corboy, William 11,12 Dybus, Ronald 12 Filinuk, Joseph 9,10,11,12 Genarie, Gary 9 Haigh, Richard 9 Halscheid, Christopher 10
Henry, David 11 Macccarilla, Thomas 9 Messer Michael 10 Nieczpiel, William 11 Schuehler, Craig 9,10,11,12 Taulane, Michael 9,10,11,12 Tenuto, Frank 9,10 Wallace, Darren 10,11,12 Warrington, Timothy 9,11,12
1991: Alcorn, James 9,10,11,12 Anderson, William 9,10 Hartshaw, Thomas 9,10,11,12 Kovalevich, Keith 9 LaBar, Michael 9 Laub, Michael 9 Leizerowicz, Brian 9 McConaghy, Brian 9 Morrison, Edward 9,10 Nieves, Hector 9 Olsen, Mario 9 Sanborn, Richard 9,10 Schaffer, Brian 9 Schaffer, Robert 9,10,11,12
1992: Joshua Beyer 9,10,11,12 (captain), John Bochman 9,10,11,12, Matthew Boyer 9,10,11,12, Gregory DiDonato 9,11,12, Michael Diemer 9, Michael French 9,10,11, Scott Garson 9,10,11,12, Michael Gaspari 9, Gerald Gatelein 9,10,11,12, Joseph Hoban 11,12, Steven Ilicick 9,10,11,12 John Jeckot 10, Jesse Leggoe 9,10
Kevin McConaghy 11,12, John Melfi 10,11, Jason Menkevich 9,10,11,12, Joseph Poacelli 11, Joseph Reilly 9,10,11, Robert Schwartz 10,11,12, Jason Smith 9, Rachel Uff (mgr.11)
1993: Joachin Arroliga 10,11,12, Matthew Bold 9, Malkiel Choseed 9, Robert Emmons 10, John Fanelle, Jr. 9,10,11,12 Joseph Haswell 9, Joseph Kohm 9,12, Richard Koss 9,10,11,12 (captain), Arthur McKevitt 9,10,11,12, John Muller 9 Dennis Orlando 9,10,11,12 (captain), Jason Orr 10,11,12, Mark Quinter 11,12, Anthony Raeuber 12, Jason Rocklyn 9, Romualdo Sanchez 9, Ronald Schwartz 10, Daniel Stratton 9,10,11,12, Dennis Vanderslice 10,11
1994: Mateo Arroliga 9, Clifford Barnes 9,10 capt. 11,12 Yader Barquerro 9,11,12
Joel Caruso 9,10,11,12, Wes Durham 9,10,11,12 Timothy George 9,10,11,12
Michael Iezzi 9,10,11,12, John Kline 9,10,11,12, Mark Kocher 9,10,11,12 Edward Kunkel 9,10,11, William Lyons 10,11 Thomas McConnell 10,11,12, James McSweeney 9, Julian Mercado 9 Glen Pyle 12, Dennis Rivera 9,10 Chris Sanders 9,10,11,12, Kevin Schaffer 9,10, Lance Stock 9,10,11, William Townsend 10,11 Fran Weikel 9,10,11,12
1995: Glen Ambrosius 9,10,11,12, Craig Barton 9,10,11,12, Brian Clark 9,10,11,12,
Daniel Farah 9,10,11,12 Elias Fuentas 9, Stephen Gangloff 9,12, Edmond Gillen 9,10,11,12, Forrley Gunby 9,10,11,12, James Hafield 9, Justin Hoover 9,12 William Johnson 9, Daniel Kemner 10, Andrew Leahy 9,10
1996: Bataloni, James (9) Beyer, Justin (9,10,11,12) Boyer, Brad (9,10) Boyer, Guy (9,10,11,12) Convery, William (9,10,11,12) Davidson, Paul (9,10,11,12) Dybus, Steven (9) Cassell, Ellis (9,10,11) Fluharty, David (9) Furman, William (9,10,11,12) Heath, Michael (10) Hillman, Paul (10) Holdbrook, Wendell (11) Houghton, Gregory (9) McCourt, Corey (9,10) McGann, Sean ( 9,10,12) Moody, Dechlin (11,12) Richards, Burt (11) Romano, Mario (9) Roseboro, Robert (9,10,11,12) Scott, Brian (9) Shaffer, Kevin (9,10,11,12) Thomas, Shawn (9)
1997: Beyer, Brett (9,10,11,12) Campbell, William (9,10) Carter, Steven (9) Carty, Michael (9,10,11,12) Cruz, Jose (9,10,11,12) DeAngelis, Michael (9,10,11,12 Fitzgerald, Joseph (9,10,11,12) Mann, Jason (9) McKeown, Michael (9,11,12) McMillan, John (9,10) Morze, Ryan (9,10,11,12) Pinkham, Jamie (9) Pope, Daniel (9,10,11,12) St. John, Ajamu (10) Tenuto, Joseph (9)
1998: Basara, Vincent (9) Bataloni, Brett (9) Bayley, Christopher (10) DiDonato, Stephen (11,12) Hanson, Erik (9) Israel, Anthony (9,10,11,12) Mahoney, Eric (11 capt.) McGuire, John (9,10,11,12) Miller, Joseph (9,12) Morgan, Brian (9) Powell, Edward (9,10) Reim, Daniel (9) Skowronek, Robert (9,10,11,12) Stringer, Daniel (9,10,11,12) Warrington, John (12) Young, Tim (9)
1999: Farkas, John (9,10,11,12) Gustafson, Eric (9,10,11,12) Hatz, Brian (9,10,11,12) Holdbrook, Thomas (9,10,11,12)
Longo, Dominic (9,10,11,12) Reim, Daniel (9) Silliphant, Steven (9,10,11,12)
2000: Anderson, Theodore (9) Heuser, Frederick (9) Lacroce, Andrew (9) Payne, Jonnell (10,11,12) Velez, Mike (9,10)
2001:Eckert, Bob (9) DiOrio, Ted (9,10,11,12) Aurig, Ted (9) Garson, Walter (11) Green, Brendon (9,10,11,12)
Gibbons, Matt ( 10,11,12) Haubois, Andrew (9,10,11,12) Hillman, Joel (9)
2002: David McCall, Leon Jacobs, Vinod Nitla, Kevin Leary, Duane Williams, Stuart Slattery
2003: Nick Antrilli, Kris Berr, Chris Brown, Fran Cruz, Paul DiLiberto, Greg McGaurn, Tim Olsen, Dan Zmijewski
2004: Steven DiOrio, Sean Ferguson, Kyle Stoy and Brandon Whittington
2005: Alexis Cortes, Joe Cozzalio, Jeremy Hatz, Warren Haubois, Aaron Marmino, Tom Money, Tim Sheldon and Derrick Vincent
2006: Kashaun Brown, Daniel Cozzalio, Jon Dempsey , Roy DiLiberto, Cory Ferguson, Kevin Ferguson, Sean Gallagher
Wesley Kelly, Richard Myles, Mikhail Pham, Dadriane Roberts, Brandon Robinson-Richardson, Kevin Allan Tracy, Curtis Williams, Jayson Wiliams, Ray Woods
2007: Peter Algaba, Nathaniel Davis, Brian Dillard, Dante Murphy, Pierre Robinson, Sam Robinson, Derrick Scott, Erryck Sheppard
2008: Chris Radon, John McFadden, Seth Payne, Sean Coyle, John Maksin, Mike Hawco, Joseph Okai, Kyle Falzone, Dewan Woods, Matt Loiseau, Rob Jost, Brad Kline, Brian Lohan, Tim Akers, Joseph McMonagle, Jonathan Lieze
2009: Lamik Inge, Kyle Jarzynski, Anthony Haubois, Jon Danielewicz, Brendan Dentino, Vince Simone, Mike Anthony, Mike Shields, Justin Powell, Anthony Robinson
2010: Mark, Schuehler, Tony Vega, Tyrone Mann-Barnes
Collingswood Football Coaches
1919-1948 Howard "Skeets" Irvine
1949-1954 Cliff Rubicam
1955-1959 Al Drulis
1960-1961 Jim Dever
1962-1965 Dick Ridinger
1966-1970 Jack Ridinger
1971-1975 Sam Young
1976-1979 Tom Reim
1980-1983 Frank DeBerardinis
1984-2010 Bob Barikian
2011- Jack McConnell
2007
Date Opponent Score
Fri 9/7 Woodbury @ Colls 6 - 32 Woodbury
Sat 9/15 Colls @ Haddon Heights 2 - 17 H.Heights
Fri 9/21 Paulsboro @ Colls 14 - 49 Paulsboro
Fri 9/28 Colls @ Haddonfield 21 - 27 Haddonfield
Sat 10/6 Colls @ Gateway 27 - 6 Colls
Fri 10/12 Haddon Twp. @ Colls 14 - 3 Colls
Fri 10/19 BYE xxxxxxxxxxxxx
Mon 10/29 Colls @ Audubon 26 - 28 Audubon
Sat 11/3 West Deptford @ Colls 6 - 54 West Deptford
Fri 11/9 Deptford @ Colls 22 - 28 Deptford
Wed 11/21 Colls @ Sterling 20 - 27 Sterling

2-8
2006

Date

Time

Opponent

Score

Fri 9/8

7:00

Woodbury

0 - 14 Woodbury

Sat 9/16

11:00

@ Paulsboro

6 - 21 Paulsboro

Fri 9/22

7:00

@ W. Deptford

0 - 27 W. Deptford

Fri 9/29

7:00

Gateway

14 - 0 Colls

Sat 10/7

10:30

@ Haddon Twp.

6 -20

Haddon Twp.

Fri 10/13

7:00

@ Lindenwold

14 - 21 Lindenwold

Fri 10/20

7:00

Haddonfield

14 - 6 Colls

Fri 10/27

7:00

Haddon Heights

6 - 7 H.Heights

Fri 11/3

BYE

Fri 11/10

7:00

Cinnaminson

34 - 9 Colls

Thr 11/23

11:00

Strerling

19 - 6 Colls

4-6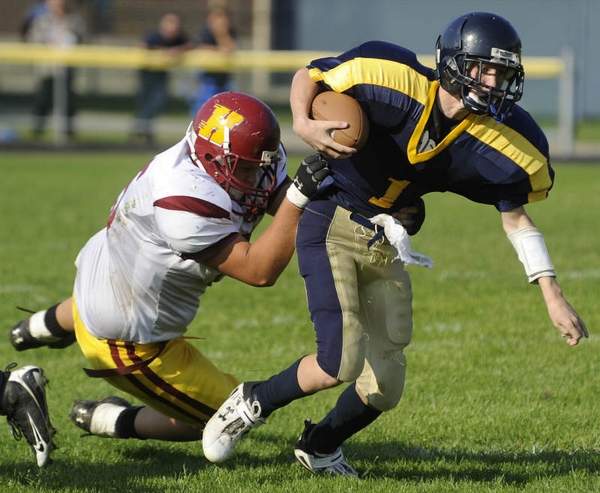 | | | | | | | | |
| --- | --- | --- | --- | --- | --- | --- | --- |
| 1941 | 5 | 4 | 1 | | 45 | 71 | Howard "Skeets" Irvine |
| 1942 | 9 | 1 | | | 236 | 31 | Howard "Skeets" Irvine |
| 1943 | 5 | 5 | | | 133 | 118 | Howard "Skeets" Irvine |
| 1944 | 4 | 5 | 1 | | 103 | 83 | Howard "Skeets" Irvine |
| 1945 | 8 | 1 | 1 | | 246 | 65 | Howard "Skeets" Irvine |
| 1946 | 9 | 1 | | | 252 | 87 | Howard "Skeets" Irvine |
| 1947 | 3 | 5 | 2 | | 96 | 106 | Howard "Skeets" Irvine |
| 1948 | 10 | 0 | | | 240 | 32 | Howard "Skeets" Irvine |
| 1949 | 7 | 3 | | | 271 | 141 | Cliff Rubicam |
| 1950 | 3 | 4 | 1 | | 59 | 83 | Cliff Rubicam |
| 1951 | 5 | 2 | 1 | | 148 | 93 | Cliff Rubicam |
| 1952 | 4 | 3 | 2 | | 145 | 91 | Cliff Rubicam |
| 1953 | 3 | 5 | | | 100 | 125 | Cliff Rubicam |
| 1954 | 5 | 2 | 2 | | 121 | 84 | Cliff Rubicam |
Coach Wins
Howard "Skeets" Irvine 223 (1919-1948)
Bob Barikian 128 (1984-2010)
Jack McConnell 37 (2011-2017)
Jack Ridinger 31 (1966-1970)
Cliff Rubicam 27 (1949-1954)
Dick Ridinger 25 (1962-1965)