Announcement
National Champions - AGAIN!
More editing options
National Champions - Again
We thought that our USATF Junior Olympic Competition had been tough, having won it by only seven points, but we never dreamed of what awaited for us in Norfolk Virginia at the AAU Junior Olympic Championship.
From the reception we received, it is now apparent that our combined efforts to promote race walking at the grass roots level is beginning to pay off. We were elated when we found out there were over one hundred teams with race walkers in attendance and surprisingly, it seemed as thou everyone and their grandmother came to participate.
Newport News Virginia and Fort Meade Maryland had brought the greatest number of race walkers with ten and eight respectively. We, on the other hand, had fourteen athletes that had qualified after having dismissed four members during the year. Of the fourteen qualifiers, four could not make the trip, two got stranded on the road with their parents, one never left Pharr due to personal problems and Johan, our USATF Junior Olympic silver medalist, left for Europe immediately after said race, leaving us with only six members to defend our national championship title.
Fort Meade got a jump start on the first day as the young team placed seven of their eight team members on the starting line and they all medaled for a total of forty three points. Newport News also placed seven of their ten team members on the line the first day and managed to earn thirty-one points.
Carolina Hernandez (11) of the South Texas Walking Club felt overwhelmed without her other teammates in attendance. She, however, gave our club a boast as she provided us the only eight points of the day with her gold medal.
The second day started just as bad for the South Texas Walking Club as Newport News 14 year olds Jayla Riddick and Diamond Sellers took 4th place in their respective walks. However, the turtles earned a gold medal from Emely Antuna (14) followed with a silver medal by Julisa Juarez (15) bringing the turtle's score up to 23 compared to 41 for Newport News and 43 for Fort Meade.
The tables turned after these races as Newport News and Fort Meade managed only one more athlete on the award stand while the turtles last two races were magnificent. The 15-16 year old boys race saw a repeat of the USATF three top finishers, Jordan of Georgia (15) and Jonathan (15) and Eduardo (16) of the turtle team. Jordan once again took the lead at the beginning of the race with Jonathan taking over at the end of the second lap. Eduardo rode their shirt tails just long enough to convince himself that he had had enough from the two fifteen year olds. He too soon went around Jordan and while it took him a little longer to go around Jonathan, he nevertheless picked up the pace around the 4th lap and Jonathan could not respond loosing the lead to Eduardo who never looked back. The boys reversed their finish line positions from their USATF meet, Eduardo finishing in a personal best time of 14:50.47, Jonathan in 15:06.90 and Jordan in 15:11.02. This brought the total points earned by the turtles to 38 compared to 45 each for Newport News and Fort Meade after Kenneth Valentine finished in 5th place for Newport News and Jose Alfonso Silva finished in 7th place for Fort Meade in the same race.
There were only two more races left and neither Newport News nor Fort Meade had anyone to put on the starting line. This placed a lot of pressure on the only turtle, Amberly Melendez (17), left to race walk knowing that it would take a 1st place finish for the team to again win the championship title.
Amberly took off at the sound of the gun but like every other turtle, she was well behind the leader at the end of the first lap. She had outpaced the 2013 record winning girl Brenda McCollum in 2014 with a time of 15:24.21, but could she stand the heat today. The National Weather Service heat index was at the extreme caution level as the race started at 3:30 p.m. However, she still felt ready and soon went around the leader covering her second lap in 1:56 causing her coach to ask her where the fire was since that was a little too fast and too early.
Soon the announcer started reporting that Amberly had an opportunity of breaking the 2013 record of 15:11.04 as she started lapping many of her competitors. The audience started chanting "Go Amberly Go" which no doubt helped Amberly break the old record by seventeen seconds as she crossed the finish line in a time of 14:54.64, and, exhausted fell flat on her face. She soon got up and started providing water to her competitors as is customary for her when they cross the finish line not yet realizing that she had helped her team win another national championship title, even if it was by only one point.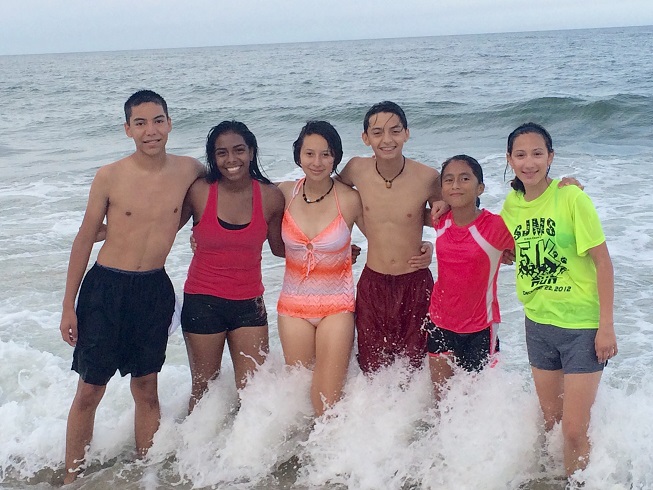 Comments
There are no comments for this announcement.