Announcement
Jonathan Aguilar - HS All-American Race Walker
More editing options
Jonathan Aguilar
High School All-American Race Walker
"Coach Jaime, please provide me with the name and telephone number of Jonathan Aguilar's parents," wrote the North Carolina University head coach two years ago to Coach Jaime. He had just seen Jonathan participate and earn high school All-American honors at the New Balance High School One Mile National Championship in North Carolina and thought Jonathan was a high school senior. He was shocked to find out Jonathan, who is big for his age, was then only a sixth grader.
Jonathan has continued to raise many an eyebrow since winning his first All-American High School race walk honor. He won the 13-14 year age bracket Junior Olympic National gold medals at the AAU and USATF Junior Olympic National Championships last year. He just now returned from Houston and Des Moines where he again won both National Junior Olympic gold medals this year. He is the fourth South Texas Walking Club member to ever win both Junior Olympic National Championships two years in a row.
Jonathan has been walking at a faster pace than most other boys did at his age and he is now only an eighth grader at Alamo Middle School. His step father, USATF Association Race Walk official Juan Flores, is very proud of Jonathan and supports him in all his endeavors.
Being supportive of other young walkers joining the team has always been a priority for Jonathan. He seldom misses any practice sessions and maintains good grades in school as mandated by the South Texas Walking Club Board.
Jonathan has qualified to attend the prestigious USATF Texas Winter Race Walking December Camp being held in Pharr for the eighth consecutive year. He, along with team members Amberly Melendez, Matias Serna, Julisa Juarez, Gisela Flores, Emely Antuna and hopefully other members that will soon qualify, will be participating with other top elite race walkers including the USA team members that will be representing the USA at the upcoming USA-Canada meet, the Pan American Cup in Canada and the World Championship in China.
The South Texas Walking Club is proud to have so many of its members qualify to attend this camp in Pharr headed by USA Olympian Tim Seaman and his wife, Canadian Olympian Rachael Seaman. Camp attendance is limited to the top forty elite USA junior & college girls & boys plus ten of the top elite junior race walkers south of the border for a total of fifty that will receive eight days of intensive training.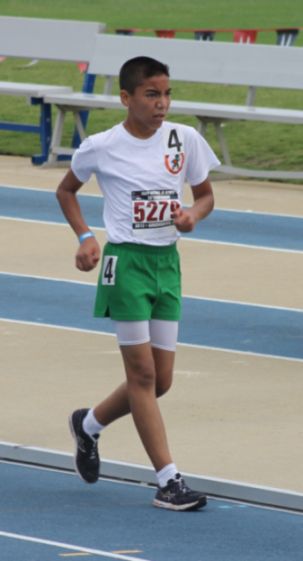 Comments
There are no comments for this announcement.