Announcement
<center>2000 Coach's Award</center>
Posted by
Dave Rea
on Nov 12 2007 at 04:00PM PST
More editing options
The JV coaches gave out their 2nd annual 'Coach's Award' at the Awards Recognition night on November 12. JV Head Coach Tom Ward descibed the award as going to not necessarily the best player on the team, but to the one that is dedicated to the team, is the most coachable, works hard and comes to practice every day, and gives 100% in games at all times.
This year's award went to Tommy Vraja, a 2nd year JV Jag who enjoys this game from the beginning of the season to the end, he is not the biggest guy on the squad but he gets the job done. Congratulations Tommy on a job well done!
Update:
In 2003 Tommy was awarded the 'Golden Jag' as a member of the Varsity Squad.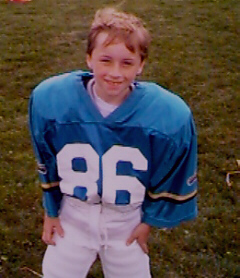 Comments
There are no comments for this announcement.