Announcement
Pennsylvania Little League District 21
More editing options
WELCOME TO
PENNSYLVANIA DISTRICT 21, LITTLE LEAGUE BASEBALL, INC.
District 21 Tournament Bracket & Schedule
Click on icon to go to individual sites
District 21 has over 3,000 children participating in 10 leagues from Lower Bucks County. Little League programs are administered by a local Board of Directors and provide opportunities for children aged 5 through 16 to participate year round in both recreational and competitive baseball and softball programs. Local Leagues also provide training opportunities for men and women interested in volunteering as coaches, managers, and umpires. District 21 is home to some of the most competitive baseball and softball in the State, and indeed, the country. Year in and year out baseball and softball programs vie for State championships and in recent years District 21 has fielded teams in the State Finals. Member Leagues: BENSALEM, BRISTOL BOROUGH, BRISTOL NATIONAL, FAIRLESS HILLS, LEVITTOWN CONTINENTAL, LEVITTOWN INTERNATIONAL, LEVITTOWN PACIFIC, MIDDLETOWN, MORRISVILLE, AND NESHAMINY.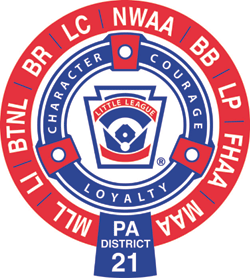 Comments
There are no comments for this announcement.