Welcome to Hart High School Boys' 2015 Tennis
Head Coach: Alan Hardbarger
JV Coach: Eric Olsson
---
Varsity JV
2015 Overall Record: 10 Wins 10 Losses 0 Tie 11 Wins 6 Losses 0Tie
League Record: 6 Wins 4 Losses 0 Tie 6 Wins 4 Losses 0Tie
---
Announcements: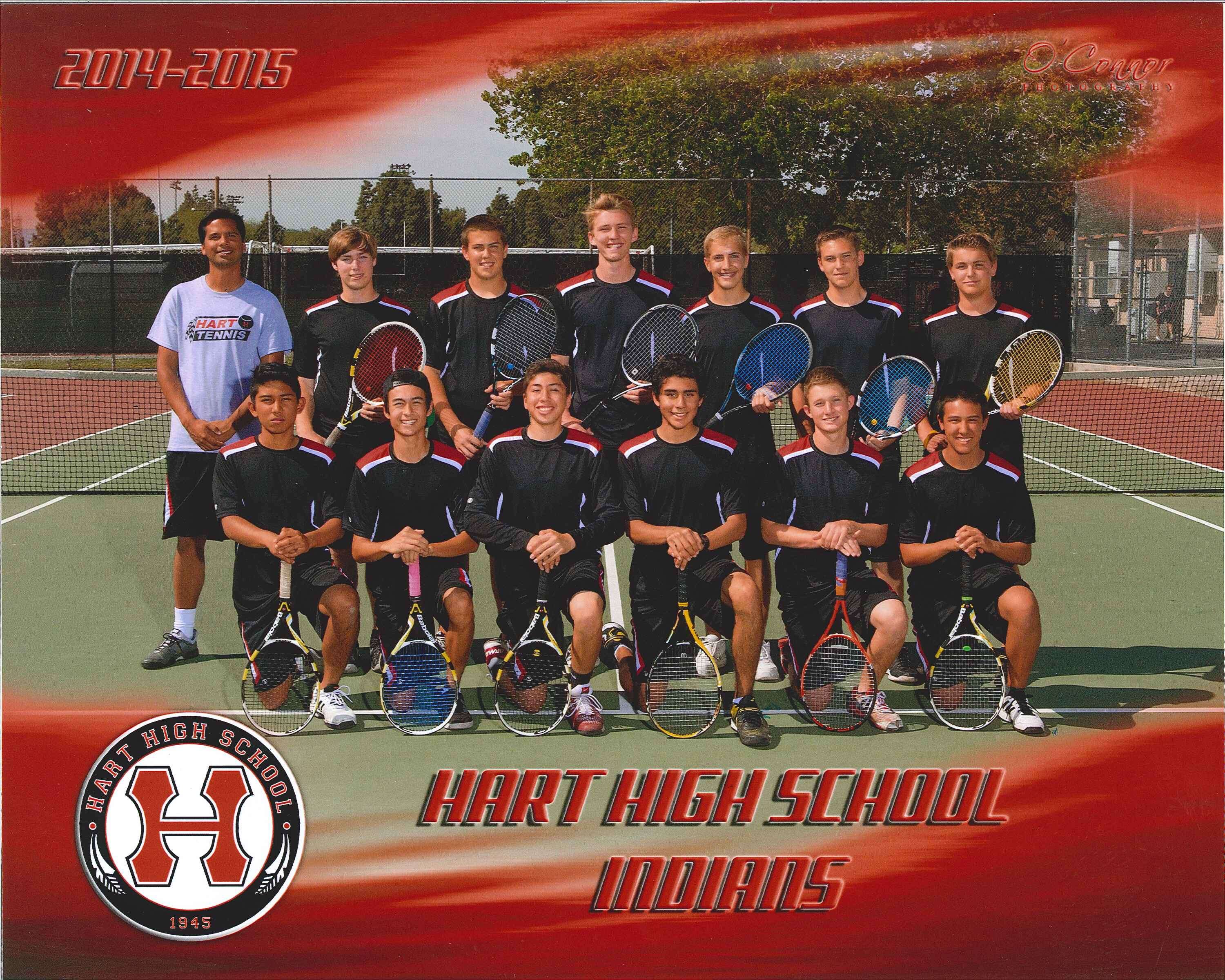 Thank you Coach Hardbarger and Coach Olsson for a fantastic season!
2015 Team banquet: Friday May 29 (6:30 pm) at the Seward's home
CIF 1st round Wednesday May 13, 2015 - Varsity at Diamond Bar 3:00 pm (see location link below for map) - GO HART, BEAT THE Brahmas!
This is the web site of Hart High School Boys' Tennis in Newhall, Ca
Click on Schedules (left) for full Varsity & JV schedules (be sure to select the correct tab).

The final version of the Varsity and JV schedules have been posted. Note that some changes have been made since the preliminary schedules:
Varsity:
New matches:
2/27 vs Agoura
3/3 vs La Canada
Date change:
The original match on 3/23 @ Glendale has changed to 4/13 @ Glendale
JV:
New matches:
2/27 vs Agoura
3/3 vs La Canada
* = denotes district authorized driver (can take multiple players)
Date

Location

Driver
Feb 24

Tues
Westlake
Suzy Seward *
Feb 26

Thur
Weddington

DRIVER(S) NEEDED

Mar 6

Fri
Camarillo
Kim Spendlove *
Mar 11

Wed
Buena
Bus - no drivers needed
Mar 18

Wed
Burbank
Kristi Berlioz *
Mar 19

Thur
Burroughs
Elisa Block *
Apr 13

Mon
Glendale
DRIVER(S) NEEDED
Depart time for all these away matches is 12:45 pm
2015 JV Coach: Eric Olsson
2015 JV Roster:
Daniel Afework
Andrew Backer
Ryan Balandran
Marcello Dean
Andrew Erwin
Brian Figg
Travis Garcia
Noah Gutierrez
Dylan Heath
Daniel LaFortenza
Garrett Leising
Thomas Lincavage
Kyle Papayoanou
Cameron Reeves