Announcement
**NOTICE** FHYAA Fund Raising Raffle Reminder
More editing options
Please don't forget to deposit all
Forest Hills Youth Activities Association Fund Raising Raffle
slips at the Fleet Street Fields snack shack on or before
Memorial Day
(Monday, May 30th). The drawing has been tentatively rescheduled to take place just before the
All-Star Games on Monday May 30th at approximately 12:30PM on Field #1.
Winners will be notified by phone and need not be present. Please make sure ALL slips are completed in full (name, address and phone number), incomplete slips are not valid and ineligible to win.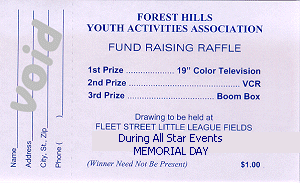 Comments
There are no comments for this announcement.
COMMUNITY REMEMBERS TEPPER - FIELD DAY