Announcement
Southside Foods Meat Sale
More editing options
SOUTHSIDE FOODS MEAT SALE
The 1994 South Delta Invaders Meat Sale fundraiser from Southside Foods is now underway..... I have only had good comments from past orders using Southside Foods in Richmond. The owner, Gerry is very accommodating and welcomes phone calls if there are any questions regarding his products. All products are 100% unconditionally guaranteed.
There are several items great for the BBQ season just around the corner as well as getting your freezer stocked up for the ball season. Please forward all order forms with accompanying payments to me no later than Thursday, April 8th. Pick up date for all orders will be from our place on April 22nd at 7:00pm. Sellers are responsible to pick-up and deliver their customer's orders. I do not have the extra freezer space to store unclaimed orders so please make other arrangements if you are unable to make the pickup time. Don't forget to hand out the order forms to family, friends and neighbours. I do require full payment with orders. Feel free to drop by any completed orders to me at anytime. Thanks in advance. Please e-mail or call me if you have any questions.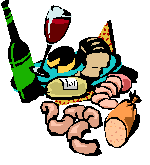 Comments
There are no comments for this announcement.