The Four Corners Referee Association, with the Four Corners Youth Soccer League, has scheduled a Grade 9 Recreational Referee Certification Clinic to be held on Saturday, August 25th, 2012, from 8:30 am to 5 pm. Time will be allowed for a lunch break. (Location to be announced later - please check back and watch the Calendar of Events)
This clinic is open to all interested persons, age 14 and older, and looking to referee games in the U-10 and older schedules of the Four Corners Youth Soccer League. Referee candidates are required to pre-register and pay a $20 registration fee to hold a spot at the clinic. Registration and fees must be paid no later than August 15th, 2012. A minimum of 12 persons are required in order to conduct the clinic. Registration and questions should be directed to Andy Robertson at: robee192@yahoo.com.
Registration fees are to cover the costs of the clinic for training and certification materials. Certified Referees are paid for all games that they officiate. Only Certified Referees can be paid by FCYSL or any of its affiliate clubs, and only Certified Referees are covered under the League or Referee Liability Insurance coverages. Non-certified Referees assume all risks and liabilities pertinent to the duties, and the FCYSL, NMYSA, and FCRA and NMSRA are not responsible.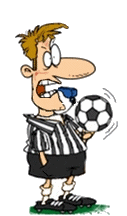 In an effort to maintain a positive and meaningful experience for the youth of our league, the FCYSL Board of Directors has established a "Mercy Rule", to be effective with the beginning of the Fall 2009 Season.
This rule shall be effective for U09 and above age groups, and does not apply to the U05 through U08 age groups, where no goalie is used.
The intent of this rule is to encourage coaches of teams that are dominating the game to use the opportunity to create a more valuable learning experience for their players. A coach that can get his players to pull back on scoring by creative methods, such as: 1-touch, pass backs, requiring header goals only; will find that these techniques will not only allow the game to play out to the end of the allotted time, but it will also help to improve the skill levels of their players.
For complete rule details, please see the handout: FCYSL Mercy Rule-rev082009.pdf, available in the handouts section, or by clicking the link on this article.
In Thoughtful Memory and With Great Respect for Lynn Hugh Benally, Husband, Father, Coach, Referee, Friend.
Lynn Hugh Benally of Kirtland, passed from his dear life on Wednesday, Oct. 15, 2008, in Durango, Colo. Lynn was born at the Brethren in Christ Mission in Otis, Oct. 17, 1968, to Chester H. and Elovonne J. Benally.
Lynn was employed by Black Hills Gas Resources as a Regulatory Specialist. He worked closely with the Jicarilla Tribe, local and state agencies. His love was spending time and traveling with his wife and children. He enjoyed working with the youth so much that he was a New Mexico Certified soccer referee and volunteered his time to local soccer and basketball, establishing his own teams. He also enjoyed coaching his children and the youth for basketball and soccer. He was extremely proud of taking a 12 and under boy's basketball team to the Hoop it Up World Championships in Florida where his team took third place. Lynn was the past Board President of the Kirtland Youth Association. Lynn also enjoyed cooking and barbecuing for his family. He was active in helping his relatives with needed projects and looked forward to branding cows. He will be greatly missed.
Lynn is survived by his wife, Cheryl Renee Benally, of Kirtland; daughters, Jessica, Tamara, and Mya; and by his son, Christian. He is also survived by parents, Chester H. and Elovonne J. Benally of Kirtland; brothers, Stuart and Larrin; his mother-in-law, Lorraine N. Yazzie of Farmington; sister-in-law, Rebecca A. Yazzie and brother-in-law, Michael D. Yazzie; grandmothers, Louella Harrison of Fruitland and Esther Benally of Montezuma Creek, Utah; and by numerous aunts, uncles, cousins, nieces and nephews.
Funeral services will be 10 a.m. Saturday, Oct. 18, at Sunrise Christian Church, 1501 Sunrise Parkway in Farmington, with Pastor Vernon Hollett officiating.
Interment at Greenlawn Cemetery, 1606 N. Dustin Ave., Farmington, NM.
Reprinted with permission from Farmington Daily Times, 10/17/2008