Have you ever wanted to be a part of an exciting soccer game and get paid for it?
Then you may want to consider becoming a referee. The Spring 2014 soccer season is fast approaching and we need referees. There is a grade 9 referee clinic on Saturday, February 8, 2014 in Farmington. Any candidates that are interested in becoming a certified referee are encouraged to attend.
The cost for the clinic is $75 per attendee, but contact your area club representative to inquire about the club paying your registration fee in exchange for a commitment to referee 5 or more games over the next year. If you do not know your club representative, please contact FCYSL Chairman Jason Miller at jasonemiller.1980@gmail.com.
This one day class will last from approximately 8:00 am to 5:00 pm on Saturday, August 3rd at San Juan College (tentative) and at the end of the day, candidates will be certified and will be able to get paid for refereeing future games during the soccer season and/or the Socctoberfest tournament in November. You must be at at least 14 years of age to become a certified ref.
If you would like to register for the clinic, please send your name, age and club affiliation(Farmington, Aztec,Kirtland, Bloomfield/FC United) to Yvette @ mailto://yoyoyvette@hotmail.com Thank you for your participation!! Four Corners Youth Soccer League
Contact Yvette Miller (FCYSL Referee Liaison) here for Clinic information or to register to attend.
For further information, please refer your inquiries to the League Chairman here.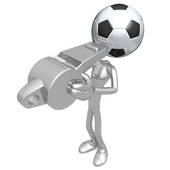 Location: Farmington New Mexico
San Juan College Human Performance Center
3 Full size courts with curtain dividers
Age: 5 thru adults
Date:February 16th & 17th
Registration deadline February 11th
Cost:$140.00 per team, 6 max on roster
Games: 3 Games minimum. Championship game for top 2 teams in their bracket
Please contact as soon as you know you are participating so we can get your teams in the brackets.
On February 5th, 2013, the FCYSL Board of Directors will hold its' annual general meeting (AGM). Several board positions are vacant and will need to be filled at this meeting. The positions that are vacant or up for re-election are listed below:
This is a list of vacant positions on the board.
Scheduler
Risk manager
Public relations
District commissioner
These positions are up for reelection in February 2013
Chairman
Secretary
Registrar
Director of coaches
If you can dedicate one evening a month to help improve youth soccer in the Four Corners, please consider running for one of these positions at the AGM February 5th, 2013 at 7:15 at the Farmington Civic Center.