Announcement
Grade 9 Recreational Referee Clinic Scheduled
More editing options
The Four Corners Referee Association, with the Four Corners Youth Soccer League, has scheduled a Grade 9 Recreational Referee Certification Clinic to be held on Saturday, August 25th, 2012, from 8:30 am to 5 pm. Time will be allowed for a lunch break. (Location to be announced later - please check back and watch the Calendar of Events)
This clinic is open to all interested persons, age 14 and older, and looking to referee games in the U-10 and older schedules of the Four Corners Youth Soccer League. Referee candidates are required to pre-register and pay a $20 registration fee to hold a spot at the clinic. Registration and fees must be paid no later than August 15th, 2012. A minimum of 12 persons are required in order to conduct the clinic. Registration and questions should be directed to Andy Robertson at: robee192@yahoo.com.
Registration fees are to cover the costs of the clinic for training and certification materials. Certified Referees are paid for all games that they officiate. Only Certified Referees can be paid by FCYSL or any of its affiliate clubs, and only Certified Referees are covered under the League or Referee Liability Insurance coverages. Non-certified Referees assume all risks and liabilities pertinent to the duties, and the FCYSL, NMYSA, and FCRA and NMSRA are not responsible.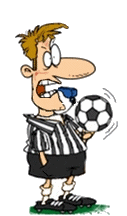 Comments
There are no comments for this announcement.