WELCOME TO
PENNSYLVANIA DISTRICT 21, LITTLE LEAGUE BASEBALL, INC.
District 21 Tournament Bracket & Schedule
Click on icon to go to individual sites
District 21 has over 3,000 children participating in 10 leagues from Lower Bucks County. Little League programs are administered by a local Board of Directors and provide opportunities for children aged 5 through 16 to participate year round in both recreational and competitive baseball and softball programs. Local Leagues also provide training opportunities for men and women interested in volunteering as coaches, managers, and umpires. District 21 is home to some of the most competitive baseball and softball in the State, and indeed, the country. Year in and year out baseball and softball programs vie for State championships and in recent years District 21 has fielded teams in the State Finals. Member Leagues: BENSALEM, BRISTOL BOROUGH, BRISTOL NATIONAL, FAIRLESS HILLS, LEVITTOWN CONTINENTAL, LEVITTOWN INTERNATIONAL, LEVITTOWN PACIFIC, MIDDLETOWN, MORRISVILLE, AND NESHAMINY.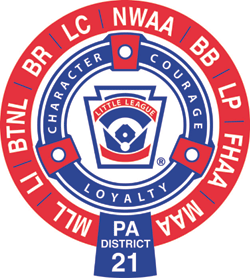 TOURNAMENT TOOLS & INFORMATION
All leagues are required to hand in affadavits with proper information collected. We ask that all District coaches have information prepared and held in a binder using sheet protectors, 1 per player with their eligibility information. Please use the links below to be ready and aware for your team.
Please use the resources below to provide for the district playoffs to sign off of your teams. Every parent will need to provide proof of address by providing a driver's license, car registration and car insurance (these documents need to be prior to Feb. 1 2015. Everything that should already be in their glove box. Combine that with a raised and real birth certificate and you have everything necessary for your players.
For players who were involved In the past they can use the form that has already been signed off.
Affidavit signing is June 18 @ Morrisville 6-9PM, June 24 Morrisville 6-9PM
President and Player Agent MUST sign these forms please sure you have them sign off.
Little League Resources for Tournament http://www.littleleaguetoolkit.org/tournament/forms.htm
Creating a map for your team/players:
Softball and have the form filled out! Rules
Medical release have each parent fill this out for their child
Please review these as you prepare for districts and have the form filled out! Rules
Baseball Rules Summary:
Conduct/Dress All coaches must adhere to little league rules in conduct, be a role model for their team. All coaches on a team shall wear shirts/hats identical in color, trim and style. No cutoffs, tank tops or sleeveless shirts are permitted.
PA District 21 2015 Schedule
League Maps - check League info pages for updated and approved maps!
Coaches guidelines - coming soon!
Vtial Check - Birth Certificate Requisiton Site
Bats- it is the responsibility of the district coach for players to have LL certified bats, use the link to check bats
---
Tournament Host
Leagues that would like to host a tournament please fill out the 2015 Tournament Hosting form
and Check Guidelines