Your On-Line Basketball Staff
On this site you find download links for the free software program Basketball Playbook v008.
The Saint Rose women's basketball program has produced three Verizon/CoSIDA Academic All-Americans within the past nine years; Siobhan Flanagan ('94), Ilze Auzina ('97) and Krista Kandere ('97, '98). Kandere was also honored as the 1998 Academic All-America of the Year in the College Division.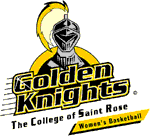 This is a new page that I am creating to list information for basketball coaches. I hope to have valuable information and other basketball related links up soon.