---
Zia LL new website is up.

Visit our new website to register on-line

| | | | |
| --- | --- | --- | --- |
| Date | Location | Start Time | End Time |
| Wed, February 6, 2019 | Manzano Mesa Multigenerational Center | 6:00 PM | 8:00 PM |
| Sat, February 9, 2019 | Manzano Mesa Multigenerational Center | 10:00 AM | 1:00 PM |
| Wed, February 13, 2019 | Manzano Mesa Multigenerational Center | 6:00 PM | 8:00 PM |
| | | | |
| | | | |
---
Congratulations to the Zia LL 9-11 Baseball Team
NM District 5 Champions
Third place finish at NM State LL Championships
---
Congratulations to the Zia LL-Minor Softball All-Stars
NM District 5 Minor Softball Champions
---
---
Stay up to date with Zia LL News.
Text ZIALL to 84483 to receive ALL messages from Zia Little League.
Text HELP for help. Text STOP to cancel alerts at any time.

---
---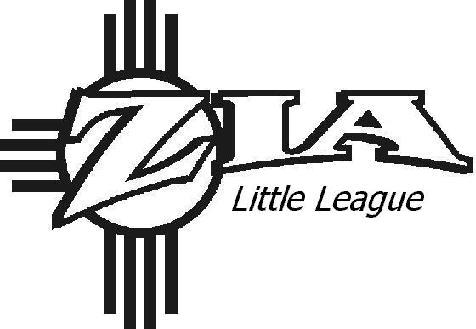 City of Abq - Parks and Rec - Contacts
Name
Title
Telephone
Cell Phone
Mark Chavez
Parks Management-Superintendent
505-452-5218
505-205-4161
Eddie Martinez
Parks Management-Field Crew Supervisor
505-366-4426
Emergency on-call Supervisor
505-259-9650
Open dates of the fields at Zia Little League.

Junior Field

| Date | Time | Field |
| --- | --- | --- |
| Mon, Apr 11 | 05:30:00 PM | Junior Field |
| Sat, Apr 16 | | Junior Field |
| Tue, Apr 19 | 05:30:00 PM | Junior Field |
| Fri, Apr 22 | 05:30:00 PM | Junior Field |
| Tue, Apr 26 | 05:30:00 PM | Junior Field |
| Thu, Apr 28 | 05:30:00 PM | Junior Field |
| Fri, Apr 29 | 05:30:00 PM | Junior Field |
| Wed, May 04 | 05:30:00 PM | Junior Field |
| Fri, May 06 | 05:30:00 PM | Junior Field |
| Mon, May 09 | 05:30:00 PM | Junior Field |
| Fri, May 13 | 05:30:00 PM | Junior Field |
| Tue, May 17 | 05:30:00 PM | Junior Field |
| Fri, May 20 | 05:30:00 PM | Junior Field |
| Mon, May 23 | 05:30:00 PM | Junior Field |
| Thu, May 26 | 05:30:00 PM | Junior Field |
| Fri, May 27 | 05:30:00 PM | Junior Field |
| Sat, May 28 | | Junior Field |
| Mon, May 30 | 05:30:00 PM | Junior Field |
| Wed, Jun 01 | 05:30:00 PM | Junior Field |
| Thu, Jun 02 | 05:30:00 PM | Junior Field |
| Fri, Jun 03 | 05:30:00 PM | Junior Field |
| Mon, Jun 06 | 05:30:00 PM | Junior Field |
Major Field

| Date | Time | Field |
| --- | --- | --- |
| Tue, Apr 19 | 05:30:00 PM | Major Field |
| Thu, Apr 21 | 05:30:00 PM | Major Field |
| Fri, Apr 22 | 05:30:00 PM | Major Field |
| Tue, Apr 26 | 06:30:00 PM | Major Field |
| Thu, Apr 28 | 06:30:00 PM | Major Field |
| Fri, Apr 29 | 05:30:00 PM | Major Field |
| Tue, May 03 | 05:30:00 PM | Major Field |
| Thu, May 05 | 06:30:00 PM | Major Field |
| Fri, May 06 | 05:30:00 PM | Major Field |
| Tue, May 10 | 06:30:00 PM | Major Field |
| Thu, May 12 | 05:30:00 PM | Major Field |
| Fri, May 13 | 05:30:00 PM | Major Field |
| Tue, May 17 | 06:30:00 PM | Major Field |
| Thu, May 19 | 05:30:00 PM | Major Field |
| Fri, May 20 | 05:30:00 PM | Major Field |
| Tue, May 24 | 05:30:00 PM | Major Field |
| Thu, May 26 | 05:30:00 PM | Major Field |
| Fri, May 27 | 05:30:00 PM | Major Field |
| Sat, May 28 | | Major Field |
| Mon, May 30 | 05:30:00 PM | Major Field |
| Tue, May 31 | 05:30:00 PM | Major Field |
| Thu, Jun 02 | 05:30:00 PM | Major Field |
| Fri, Jun 03 | 05:30:00 PM | Major Field |
Minor Field

| Date | Time | Field |
| --- | --- | --- |
| Wed, Apr 20 | 05:30:00 PM | Minor Field |
| Fri, Apr 22 | 05:30:00 PM | Minor Field |
| Wed, Apr 27 | 05:30:00 PM | Minor Field |
| Fri, Apr 29 | 05:30:00 PM | Minor Field |
| Tue, May 03 | 05:30:00 PM | Minor Field |
| Fri, May 06 | 05:30:00 PM | Minor Field |
| Wed, May 11 | 05:30:00 PM | Minor Field |
| Fri, May 13 | 05:30:00 PM | Minor Field |
| Wed, May 18 | 05:30:00 PM | Minor Field |
| Fri, May 20 | 05:30:00 PM | Minor Field |
| Fri, May 27 | 05:30:00 PM | Minor Field |
| Sat, May 28 | | Minor Field |
| Mon, May 30 | 05:30:00 PM | Minor Field |
| Tue, Jun 07 | 05:30:00 PM | Minor Field |
| Fri, Jun 10 | 05:30:00 PM | Minor Field |
Rookie Field

| Date | Time | Field |
| --- | --- | --- |
| Wed, Apr 06 | 05:30:00 PM | Rookie Field |
| Fri, Apr 08 | 05:30:00 PM | Rookie Field |
| Fri, Apr 15 | 05:30:00 PM | Rookie Field |
| Fri, Apr 22 | 05:30:00 PM | Rookie Field |
| Fri, Apr 29 | 05:30:00 PM | Rookie Field |
| Fri, May 06 | 05:30:00 PM | Rookie Field |
| Fri, May 13 | 05:30:00 PM | Rookie Field |
| Fri, May 20 | 05:30:00 PM | Rookie Field |
| Fri, May 27 | 05:30:00 PM | Rookie Field |
| Sat, May 28 | | Rookie Field |
| Mon, May 30 | 05:30:00 PM | Rookie Field |
| Fri, Jun 10 | 05:30:00 PM | Rookie Field |
| Fri, Jun 10 | 05:30:00 PM | Rookie Field |
| Fri, Jun 17 | 05:30:00 PM | Rookie Field |
Softball Field

| Date | Time | Field |
| --- | --- | --- |
| Mon, Apr 18 | 05:30:00 PM | Softball Field |
| Fri, Apr 22 | 05:30:00 PM | Softball Field |
| Mon, Apr 25 | 05:30:00 PM | Softball Field |
| Wed, Apr 27 | 05:30:00 PM | Softball Field |
| Fri, Apr 29 | 05:30:00 PM | Softball Field |
| Mon, May 09 | 05:30:00 PM | Softball Field |
| Fri, May 13 | 05:30:00 PM | Softball Field |
| Wed, May 18 | 05:30:00 PM | Softball Field |
| Fri, May 20 | 05:30:00 PM | Softball Field |
| Mon, May 23 | 05:30:00 PM | Softball Field |
| Thu, May 26 | 05:30:00 PM | Softball Field |
| Fri, May 27 | 05:30:00 PM | Softball Field |
| Sat, May 28 | | Softball Field |
| Mon, May 30 | 05:30:00 PM | Softball Field |
| Fri, Jun 03 | 05:30:00 PM | Softball Field |
| Mon, Jun 06 | 05:30:00 PM | Softball Field |
| Wed, Jun 08 | 05:30:00 PM | Softball Field |
| Fri, Jun 10 | 05:30:00 PM | Softball Field |
| Mon, Jun 13 | 05:30:00 PM | Softball Field |