Announcement
Seton Swimmers Rain Personal Records at VISAA States - Part II
More editing options
Day 2 – Saturday Finals
After Saturday Prelims, which went until nearly 1:00 p.m., we retired to the Team House for naps. But before I could think about sleeping, I had some scoring to project.
As I suspected after the 200 Free Relay, Trinity Christian was uncatchable. With a relay and two individual qualifiers in an "A" Final, Trinity was guaranteed at least 8th place points three times. Our case was the opposite. We had two relays and one individual qualifier all in "B" Finals, the highest we could score was 9th place. That made it mathematically impossible, short of a DQ, to catch TCS.
As I worked through the math though, another surprise became evident. With one girl in an individual "A" Final, a relay in a "B" Final, and two other scoring girls in "B" Finals, Williamsburg Christian was going to score more points that night than us. The Psych Sheet for the Saturday evening Finals had us tied for the State Runner-up, at 66 points each!
On Saturday evening, our Girls did everything I could have asked, and then some. The night of swimming started with the 100 Free. Mairead had a tremendous swim in the "B" Final, cutting .78 seconds from her morning swim to go a blazing 54.73! That moved her up from 12th to 11th. Unfortunately, the girl from Williamsburg Christian also swam well and moved up from 13th to 12th – so the net score didn't change – we both gained one (1) extra point. On to the relay.
The hand of poet was at work once again, because in the Consolation Finals of the Girls 200 Free Relay, we were once again in the lane right next to the team we had to beat, this time Williamsburg Christian.
Williamsburg Christian is a school with only 29 girls in grades 9 through 12. Three of them are the very talented USA swimmers who had qualified for Finals a combined total of six (6) times, but that left them with only 26 other girls from which to find a 4th relay swimmer. Their coach had decided to line up their relay with the three very fast girls first and their high school-only swimmer as the anchor. Her split in Prelims was 29.72, which good for her but not normally what you see at States.
Before the race, I told our girls not to panic if we were way behind before Mary Pennefather entered the water for the anchor leg, because we WERE going to be way behind. It was going to be up to Mary P. to catch up.
Even though we rocked the first three legs – Mairead Geiran led off with a 25.87 on a 25.97 flat start PR, Mary Heim split 26.55 on a PR split of 26.85 and Caroline Griffin split 26.60 on a PR split of 26.67 – we were still a seemingly insurmountable 4.35 seconds behind at the 150. I told the girls not to panic, but I was not taking my own advice – until I saw Mary Pennefather's amazing relay start.
Mary ran down the blocks and with her great leaping ability, I think she hit the water under the flags. It took an absolutely incredible 24.97 split, but Mary pulled ahead inside the final flags and out-touched the poor WCS girl by .37 seconds to preserve 9th place. That was the first time Mary P., only an 8th grader, has ever broken :25. WCS held their 10th place seed, so in spite of that amazing swim, the projected ending score remained tied.
At this point, things got out of our control since we didn't have another chance to score until the last event, the 400 Free Relay. It was in 100 Back, that a Williamsburg Christian swimmer named Delaney Gibbons had the swim of her life so far. Delaney entered the meet seeded at a 1:01.01. Her 1:00.70 in Prelims qualified her 11th in the "B" Final, and he 59.16 in the "B" Final jumped her up to 9th. So instead of scoring 6 points, Delaney scored 9. It was a great swim just when her school needed it most.
In 100 Breaststroke, WCA's best swimmer dropped from the 6th seed to 7th in spite of a PR 1:07.27 so we got one point back – but we were still projected to finish 2 points behind if we didn't improve on our 13th place seed in the Girls 400 Free Relay.
With one event to go, the poet's hand wrote yet another verse.
In 1977-78, I was a freshman at Bishop Ireton High School, and even though I was only there for one year, I swam for a coach I will never forget – Harry Sober. Coach Sober started practice at 6:59 a.m. and had us do sets like 10 50s on 180 (go again when your pulse gets down to 180). Sound familiar to anyone?
Because I have such fond memories of my time at Ireton, I always go over to their team area and say hello. On Friday, I walked over and saw an unfamiliar face with the Ireton Cardinal logo on it.
"It's great to be a Cardinal!", as Ireton alumni say to each other.
We chatted for a few seconds, and given the gentleman's apparent age, I took a long shot. "Do you know a guy named Harry Sober?"
"I am Harry Sober", he replied. I couldn't believe it. After more than 40 years, I was once again on a pool deck with the swimming coach who has had so much influence on what I do with all of you.
Fast forward to 9:00 p.m. on Saturday night. Our Girls 400 Free Relay is seeded 13th (5th in "B" Final), and we have to get at least 12th to tie Williamsburg Christian for the State Runner-up.
"Who do we have to beat?" I quickly wanted to know. I looked at my Meet Program and started counting through the seeds in alternating lanes.
As I looked over the top of the paper and saw Coach Sober standing near the blocks, I realized that Relay we had to beat was from … Bishop Ireton. Three out of four of our girls swam PR splits to go 3:58.81 in the Prelims and Ireton was seeded three (3) seconds ahead of us at 3:55.76. Fortunately, our girls didn't know it was nearly impossible because they sure didn't swim like it.
Caroline Griffin led off in what Coach Mulhern and I thought was going to be a slow time watching her swim - but we were SOOO wrong. Neither of us could believe it when we saw the scoreboard flash 59.22, 1.38 seconds faster than she's ever gone from a flat start. Then Isabelle Luevano split 58.88! We were still behind Ireton. Mary Pennefather gained ground with her lifetime best split 58.27, but the Ireton lead was just too great for Mary Heim to make up.
Our girls had dropped 2.20 seconds from Prelims with three huge PR swims, but Coach Sober's girls dropped again as well. It was done. We fell 2 points short in a valiant effort.
After the session, Mr. Bingham asked me, "What would you have said on Thursday if someone told me that we would end up that close to becoming the State Runner-up for Division II?"
I told him, "It never occurred to me that it was really possible."
"Exactly", he said.
Our Boys Swam Out of their Minds
It is easy to focus on the accomplishments of our Girls, but we have quietly developed quite a strong Boys team – and they are all coming back! Looking through the results, I saw an amazing tally of Personal Records flat start swims and relay splits. Of 22 total swims by our boys this weekend, 19 of them were lifetime bests – that's 86%!
We are unique among the teams that go to States in that we don't have any boys at all who are also USA swimmers (i.e. the swimming equivalent of travel soccer). The VISAA State Championship has gotten so fast that it has become very hard for a high-school only swimmer to break into the Top 16 to score any points at all.
In fact, the 2 points that we scored this year were a big accomplishment for our current team – the last time our Boys scored at States was 2013. This weekend's two points came from the improbable 16th place finish by our Boys 400 Free Relay of Jerry Dalrymple, Jacob Alsup, Shane Koehr, and Jack Santschi.
Our Relay entered the meet seeded 29th with our best time for the season of 3:48.64. We've never run the relay with this combination of swimmers, so I knew we would go faster, but I never imagined the 12.16 second drop that I saw in Prelims!
Jerry Dalrymple led off with a huge 1.92 second PR 53.87. Not only was the first time he ever broke :54 from a flat start, it was the first time he ever broke :55! Then Jacob Alsup split 54.78 on a PR split of 57.20, Shane Koehr split 55.30 on a PR split of 55.61 and Jack Santschi anchored with a 52.53 on a PR split of 52.87. Those drops allowed us to charge into the "B" Final as the 16th seed – just .47 seconds ahead of Trinity Christian School's boys.
That night, in the Finals, our Boys dropped another .78 seconds on the strength two more PR splits: Shane Koehr's 54.56 and Jack Santschi's amazing 51.92.
We had several other great swims that I should highlight:
Our Boys 200 Medley Relay of Shane Koehr, Jacob Alsup, Jerry Dalrymple and Jack Santschi cut 1.10 seconds from their season best to jump up to 23rd place overall on a 28th place seed coming into the meet.. Shane had a lifetime best lead-off backstroke split of 27.56 (by .89 seconds), Jerry split a lifetime best 25.60 (by .80 seconds) and Jack split a lifetime best 23.45 (by .11 seconds).

Our Boys 200 Free Relay of Shane Koehr, Jacob Alsup, Jerry Dalrymple and Jack Santschi cut a huge 3.01 seconds from their season best on the strength of PR splits from all four swimmers. Shane led-off 24.87 (PR by .93), Jacob split 24.68 (cut .29), Jerry split 24.21 (cut .22) and Jack anchored in 23.46 (cut .10). Seeded 30th coming into the meet, they finished in 22nd place.

Our Boys 400 Free "B" Relay of Justin Fioramonti, Evan Wilson, Cormac Clune and Christian Ceol cut 2.02 seconds from their seed time on the strength of Justin's 1:00.18 lead-off, Evan's leg of 1:00.19, Cormac's leg of 58.69 and Christian's anchor of 58.37. Justin's time was a .31 second PR, Evan's split beat his previous best by .39 seconds, and Cormac crushed his previous best split by 1.44 seconds.

Jack Santschi (SO) cut another .28 seconds to go 23.89 and finish 42nd in 50 Free. Jack was the only member of our team to break :24 in 50 Free this year.

Shane Koehr (JR) was our only other individual qualifier, in 100 Backstroke, and he ended up in 37th place.
My Future in VISAA Swimming
I've had a pretty good run in VISAA Swimming. Back in 2005, I was first elected to the VISAA Swimming Executive Committee as Secretary, and I've served as well as I could over the past 14 years. That term of service came to an end this past weekend when I handed the reigns over to some new blood.
One of the reasons I felt that it was time for me to step down was the VISAA Executive Board's divisive decision to ban our Committee for hosting future State Championships at Liberty University. Most of the reasons originally given were red herrings for the real reason: Liberty espouses a biblical view of human sexuality and its role in the family.
Given that a significant portion of the VISAA membership is made up of Catholic and Christian schools, I just could not accept that the Executive Board would issue such a blatantly anti-Christian policy. The VISAA has a clear mission and standing as a divisive and exclusionary moral arbiter is not part of it. It should be the position of the VISAA Executive Board to not take positions on the contentious social issues of the day.
Here's a letter that Mrs. Carroll submitted last August to the VISAA Executive Chairman, Dr. Burkett of Banner Christian School, who surprisingly is a graduate of Liberty University himself. I'm grateful that several other Christian schools also submitted letters, including the Directors of our toughest competition from this year's State Championship, Trinity Christian School and Williamsburg Christian School.
I will not disappear completely from VISAA Swimming, of course. I love this sport and all that it can teach high school aged kids about how to live a life in concert with our Catholic faith. There is still good to be done.
VISAA Girls Swimming Coach of the Year
I was also honored and humbled to be nominated and then elected for the Girls Coach of the Year. As part of the process, I was asked to submit an application. I thought that you might be interested in some of the reflections from this season that I included:
Coach Jim Koehr, Seton School
Nominated for Female Team Coach of the Year
How many years have you been coaching swimming at a VISAA School? 18 years
How many years have you coached the sport of swimming? 18 years
What are three items that must always be in your swim bag? Microphone and speaker for teaching stroke technique, cell phone charger, dry socks
What is your favorite snack to eat during a swim meet? Chocolate covered coffee beans from Coach Kimberly Dalrymple
What is your favorite memory of this season?
Watching team member Maddie Given swam 100 lengths at our annual Cystic Fibrosis Swim-a-thon - with Cystic Fibrosis herself,

Getting a group hug from the whole girls team before the Conference Championship Meet,

See true joy in the faces of our Girls Medley Relay after they unexpectedly won the gold medal at the Conference Championship Meet, and

Watching our very excited girls win their 25th straight Conference Championship.

What is the best piece of advice you give to your swimmers? The things that bring us the greatest joy are the things for which we have worked the hardest.

Which of the four pillars of the Swim Committee's mission (good sportsmanship, team character, positive spirit, and quality athleticism) do you think is most important and why?

Team Character. To quote from my most recent blog on www.setonswimming.org:

One thing that we learn about happiness as we get older is that the things that bring us the greatest joy are the things for which we have worked the hardest. The kind of joy I'm talking about will never be achieved by sleeping-in, watching a movie, hanging out with friends, an expensive bottle of Bordeaux or even a Viking River Cruise. It's the kind of joy we all felt last night at the Fitch WARF in Warrenton.

When our alarms were going off all season in the dark and cold of early winter mornings, it was hard for us to imagine that any joy was possible from swimming at Seton at all. I'll admit to occasionally feeling that myself, but as I've learned in my life so many times, subjecting yourself to suffering, in this case the suffering of early mornings and hard workouts, can lead to great joy.

It continues to amaze me that I continue to be amazed by that, but in my weakness, I'm once again reminded that it is Truth: the entire basis of our faith is that suffering can lead to eternal joy.
Next Season, Conference Champions again?
We are only graduating two (2) seniors, both girls, and we currently have 46 swimmers who are 9th grade and below. It is hard to imagine that we won't be stronger next season than we have been this season. Based on our performance at the Conference and State Championships this year, I am clearly excited about our chances to repeat as both the Boys and Girls Conference Champions again next year.
We also need to have another great recruiting year inside the school. There are plenty of strong swimmers that have either never been on the team or would be great to have back on the team. Seton Swimming is a great community within Seton School. Let's use the off-season to expand that community for next year.
Awards are All That Remain
Mrs. Dalrymple is coordinating our Awards for Sunday, March 3rd at Seton School starting at 1:30 p.m. I'm traveling a lot this week and next so I'm not exactly sure what is planned beyond that, but I think it may involves delicious treats. I'll put out more details as plans develop.
Final Thoughts
It certainly has been another great season for Seton, and I'm quite encouraged by our future here. I've written in past blogs of the great joy that comes from achieving things that you never thought possible by working hard, believing in yourself and taking a risk. I saw countless examples of that this season, and I'll tell you true – you swimmers are not the only one who get great joy out of it.
At the end of recent seasons, I also spent a lot of time writing about our GEMS: Gratitude, Excellence, Meekness and Sacrifice. Those are the values that have powered our team toward a commonality of purpose and a mutual support for one another to do always do our best with the gifts that God has provided. I feel particularly good about the fact that we were able to tap into that power this year – and the results speak for themselves.
So even though the season it over, we are still a team. I look forward to seeing you all support each other for the rest of the year outside the water the way our State Team supported each other this past weekend in the water.
Coach Jim Koehr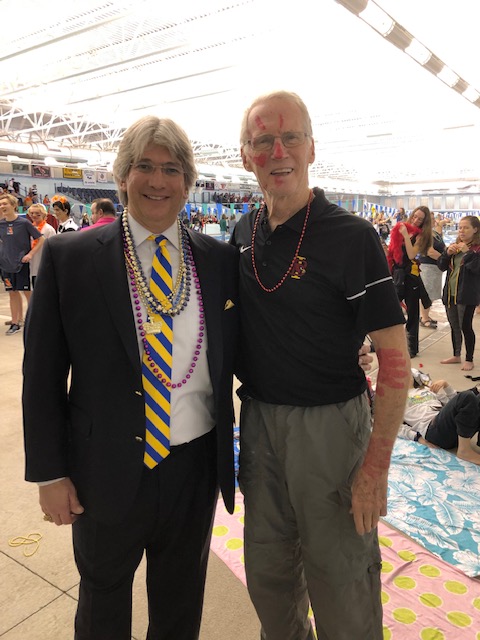 Comments
There are no comments for this announcement.