Announcement
Seton Swimmers Rain Personal Records at VISAA States
More editing options
750 Swimmers from 52 Teams, music blasting, kids singing and dancing, costumes in a parade, hugs and tears from Seniors swimming for the last time, Seton families gathering between sessions at our rented river house for Pasta and Chinese noodle feasts, and even our own swim team St. Valentine's Day Dance. Most importantly, we saw loads of huge PR times from our Swimmers and a Girls third place finish in Division II. These were just a few of the highlights from the 2019 VISAA State Swim and Dive Championship at the beautiful new Jeff Rouse Swim and Sport Center in Stafford, VA.
Last weekend (Feb 14-16, 2019), we took 19 swimmers and a like number of parents into this incredibly fast meet - and the swimming I saw from our team was beyond my expectations. Our kids always seem to excel on the big stage every year at States, but even I was amazed by the results. We had huge drops from a number of swimmers, including a Boy's relay that dropped 12 seconds and several swimmers that had multi-second drops in their individual events and relay splits.
It was the last meet for senior Mary Heim, and even I found it a bit emotional. Mary has been such a great part of our team, and she has been a great leader also. I'll always remember my last year with Mary in the pool. I'll also always remember the Heim family on deck with Seton Swimming. Mary is Hank and Laura's baby, so this is their last year too. The Heim Family has been a part of Seton Swimming since the mid-2000s. We'll miss you Heim's!
Seton wasn't officially a co-host for the meet, but I was so proud to watch Bill Dealey and Jim Griffin working with Ginger Schmidt of Trinity Christian School to manage all the timing and scoring systems, Charles Seltman who served as one of the Starters and Deck Referees, and Therese Griffin who served as a Stroke and Turn Judge. The meet required about 125 volunteers, and little Seton was able to fill many of the key roles. Seton definitely shined last weekend, both in and out of the water.
It was an incredibly fun trip for our team. For the fifth time, we tried renting a house off of AirBnB so that we had a place to gather between sessions for comradery and team meals. This time, we had a wonderfully spacious house right on the Potomac River – just beautiful! The relatively warm February day on Friday allowed us all to enjoy each other's company down by the river for a wonderful afternoon of team togetherness after the first day's Prelims.
Thanks to the leadership of Mrs. Luevano, with a team of fellow Moms including Mrs. Geiran, Mrs. Heim, Mrs. Griffin and Coach Dalrymple, we had wonderful team meals that didn't require long waits for restaurants to serve drinks and take orders. I'm quite sure no other team was eating like we were at States this year!
One of the highlights of meet for me was our Thursday night dinner at the Team House. The Captains had put together gift bags for each swimmer and Shane Koehr had brought his ever-present guitar amp and microphone. What started as a presentation of gift bags turned into a wonderful event that we are going to have to every year.
After the gift bags, Shane had "The Cone" – a traffic cone from the Seton parking lot that ended up at the State meet a few years ago. Since then, "The Cone" has been signed by every State swimmer. The Captains had a ceremony where all of the new State swimmers were honored with a chance to sign "The Cone". Even Coach Mulhern got to sign.
The signing of The Cone was followed by impromptu speeches from each Captain that were amazingly inspiring. I was so proud of our team that night, let me tell you. The whole event was conceived and led by our Captains, and it was a beautiful way for everyone to be reminded of the larger lessons of Seton Swimming. I always say that, "Swimming ain't about swimming." Thursday night was a great demonstration of that.
To bookend that great opening event, the Captains held their own St. Valentine's Day Dance for the team at the House on Saturday night since all of the swimmers missed the Dance at Seton earlier that same night. It was so much fun watching even the shyest swimmers jump in with gusto. I also enjoyed watching Mrs. Luevano, Mrs. Griffin, Mrs. Heim and Coaches Mulhern, Santschi and Dalrymple get into the act!
Thank you, Captains, for your great leadership this weekend and this entire season!
I was also fortunate enough to be voted by the other coaches as the VISAA Women's Team Coach of the Year for the 2nd time. My wife always tells me that I get more from coaching swimming than I give. This weekend was just another example.
Scoring
This meet was unbelievably fast. Imagine a Boys 200 Free Relay where the slow guy went 21.35! Of the 24 total events, there were ten (10) new Meet Records. With only the top 16 finishers getting points, it is very hard to score at all in a meet like this. The result is a premium on the fastest swimmers, particularly in the Division II.
Another aspect of the Meet that was a lot of fun to watch was the Girl's competition for the Division II title. I came to the meet with the idea that we could have a great experience and swim well, but it never occurred to me that we might become competitive for the Championship. In the end, my prediction that Trinity Christian School was going to take the Girl's Division title proved to be correct, but after the way we swam on first day, we all started to see the possibility, however small, of taking the title ourselves.
In the end, our girls lost the Division II Runner-up by only 2 points to Williamsburg Christian. This was the first time after seven (7) years where Hampton Roads Academy did not win the Girls Division II State Championship.
On the Boys side, we were able to score points for the first time in several years with a 16th place finish in the 400 Free Relay – so that, in itself, felt like a huge victory. And unlike the girls, Hampton Roads Academy was able to seal the deal for a nearly unbelievable 8th straight year.
Recall that our State Championship is scored like one big championship meet. The team with the highest point total is declared the "Overall" State Champion, and the Division II team with the most points is declared the "Division II" State Champion.
Here's an excerpt from the final scoring of a very exciting meet -the Division II schools in bold:
Girls
1. Norfolk Academy 279.5
2. Collegiate School 251
3. St. Catherine's School 243
4. Bishop O'Connell 238.5
5. Madeira School 230
6. Potomac School 145
7. St. Stephen's & St. Agnes 119
8. Trinity Episcopal 112
9. St. Gertrude 95
10. Trinity Christian School 85 – Division II Champ
11. Paul VI 81
12. Williamsburg Christian 69 – Division II Runner-up
13. Seton School 67
14. Steward School 59
Boys
1. Norfolk Academy 319
2. Collegiate School 265
3. St. Christopher's School 241
4. Woodberry Forest 233
5. Bishop O'Connell 136
6. Paul VI 106
7. Flint Hill School 100
8. St. Stephen's/St. Agnes 92
8. St. Anne's Belfield 92
10. Hampton Roads Academy 86 – Division II Champ
11. Trinity Episcopal 84
12. Potomac 82
13. Bishop Sullivan 71
14. Peninsula Catholic 58 – Division II Runner-Up
14. North Cross School 58 – Division II Runner-Up
30. Seton School 2
"So You're Telling Me There's A Chance!"
Let me take you though a bit of the roller coaster I lived as our girl's seemingly non-stop rain of PRs put the heat on Trinity Christian and Williamsburg Christian, only to have their girls respond in kind. A look at our detailed results showed that, of the 28 flat start or relay swims for which we had accurate times, 19 of them were lifetime bests – 68%!
Any one who knows me knows that I'm really no fan of losing, but when I know we did all we could do, then I can live with it quite happily. Trinity Christian and Williamsburg Christian did all they could do too, and in the end, it was just too much for us.
Day 1 - Friday Prelims
The first event on Friday for Prelims was the Girls 200 Medley Relay. We were seeded 8th and needed to qualify for Finals in that position also. One important aspect of the way that Preliminaries work is that the eight (8) fastest finishers advance to the Championship Final (usually called the "A" Final) and then the next eight (8) fastest finishers advance to the Consolation Final (usually called the "B" Final). If you are in the "B" Final, you cannot score ahead of anyone in the "A" Final, even if you swim faster than them that evening.
So qualifying in 8th is the perfect place to be because you can only get better – you are guaranteed at least 8th. After Prelims for the 200 Medley Relay, we were in the perfect spot!
Our Girls 200 Medley Relay of Caroline Griffin, Mary Heim, Mairead Geiran and Mary Pennefather came in with a seed time of 1:56.09 from National Catholics, and they went 1:55.10! That beat 9th place by .05 seconds, and it also beat Trinity Christian, who qualified in 10th place, by only .24 seconds. Williamsburg Christian qualified in 13th. Now it would be impossible for TCS and WCS to beat us in this event because the best they could do was 9th and the worst we could do was 8th – and remember that relays score double points.
Our splits in Prelims were tremendous. Caroline was right on her PR backstroke lead-off with a 29.29 followed by Mary Heim who swam a lifetime best 33.28 (PR split 33.82), Mairead Geiran who split 27.29 (PR split 27.55) and Mary Pennefather who split 25.24, right on her PR split.
Next up for the Friday Preliminaries for Seton was Mairead Geiran's 200 Free. Mairead came into the meet seeded 6th, and she knew she had to qualify at least in the top 8 – which she did. After cutting .92 seconds from her PR, she went 1:59.63 and held on to 6th. The Williamsburg Christian girl qualified outside the top 8, so we were sitting pretty for Finals once again.
The rest of Prelims broke out with Trinity Christian putting Annalise Cornett in the "A" Final in 200 IM and Brooke Williams in the "B" Final from a blazing fast 100 Fly field. Williamsburg Christian also put one girl in an individual "A" Final and another in an individual "B" Final.
Day 1 - Friday Finals
The Finals on Friday night ended much like the Prelims with our Medley Relay staying at 8th and Mairead holding 6th with another .20 second drop to 1:59.43. That's fast!
By the end of Friday night, our 22 points in the Medley Relay and Mairead's 13 points individually had Seton leading TCS and WCS 35-32-29, respectively. I genuinely was not expecting to be at this point, so I was quite pleased by these developments. Interestingly, The Steward School was actually in the lead for Division II, but they were doing it with two very strong girls (and no relays) who had 3 of their 4 total swims on Friday. With only one chance to score on Saturday, I knew that lead would disappear on Saturday night.
We had a few other great swims during Prelims on Friday morning. Our Girls "B" 200 Medley Relay of Gemma Flook, Anne Konstanty, Emily Flynn, and Isabelle Luevano swam 5.53 seconds faster than their seed on the strength of tremendous splits from Anne Konstanty's 35.55 Breaststroke and Emily Flynn's 28.19 Fly. One thing I loved even more about Emily's swim was how her Fly split was only about a second slower than Mairead's. That means that next year, after Mary graduates, we can move Mairead to Breaststroke knowing that Emily can carry the load in Butterfly.
In Friday's 50 Free, Mary Pennefather swam a .67 second PR 26.21 to finish 30th. In the Bonus 50 Free, Isabelle Luevano swam a .15 second PR and Anne Konstanty swam a .21 second PR.
Day 2 – Saturday Prelims
We came back a little tired and uptight on Saturday morning, which I think was my fault. In the excitement of discovering that we actually had a chance to bring home a State Championship or State Runner-up, I think I inadvertently made too much of a big deal about it. One of our team values is Meekness which certainly encompasses control over one's emotions. It was a valuable lesson for me in the future – boys love battle, but you gotta just stay cool with girls.
The first event was the Girls 100 Free where Mairead Geiran entered as the 8th seed at 55.15. In a smoking fast Prelim, 8th turned out to require a 54.17, so even though Mairead swam well, she got bumped down to the "B" Final. As expected, the 3rd seed Brooke Williams from TCS qualified for the "A" Final and the 14th seed from WCS joined Mairead as a qualifier in the "B" Final.
None of us had scorers in the 500 Free, so next up was the all-important Girls 200 Free Relay. Both TCS and Seton loaded our relays with our four (4) fastest swimmers and used seed times that were based on actual times swum during the season versus times that we thought they would actually do. To get a better idea of where we stood, I redid both seed times and came up with something very interesting. The sum of each swimmers' best splits for the season resulted in a time of 1:44.09 for TCS and 1:44.11 for Seton.
Comparing those times to the Psych Sheet showed that our seeds should have been 8th and 9th. Even more incredible was our lane assignments. We were right next to each other, with the winner potentially making it into the "A" Final and the loser being bumped to the "B" Final. It seemed like a plot twist that you might find in some novel. Williamsburg Christian was seeded 10th.
Event 17, Heat 5, Lanes 2 and 3. Trinity Christian and Seton faced off. Our Girls "A" 200 Free Relay of Mairead Geiran, Mary Heim, Caroline Griffin, and Mary Pennefather exceeded expectations with some fabulous swimming. Mairead led-off with a .22 second PR 25.75. The timing system missed the exchange between Mary and Caroline so all I know is that their average split was 26.57. Given that their PR splits were 26.85 and 26.67, one or both of them must have done something very special. When Mary P. brought it home in 25.18, they had swum a relay PR 1:43.91!
Unfortunately, Bishop O'Connell took 8th in a blazing 1:42.95. Even more unfortunate, for Seton anyway, was that Trinity Christian had an amazing swim, going 1:42.55 and qualifying in 6th. While Trinity was going on to the "A" Final with a floor of 8th place, Seton and Williamsburg Christian were entering the "B' Final with a ceiling of 9th. We were seeded 9th and 10th, respectively.
We were done with our realistic chances to qualify for Finals until the Girls 400 Free Relay, but Trinity Christian and Williamsburg Christian were not. Trinity put Annalise Cornett into the "A" Final for 100 Backstroke. Williamsburg Christian put a girl in the "B" Final for 100 Back and the "A" Final for 100 Breaststroke. That would potentially be an insurmountable number of points, but if we were to have a chance, we'd have to do it with our 400 Free Relay.
Our Girls "A" 400 Free Relay of Caroline Griffin, Isabelle Luevano, Mary Pennefather and Mary Heim had their work cut out for them. They were seeded 19th with the best 400 Free Relay time Seton had done this season, but using the sum of their PR splits, I projected they would actually have been seeded 13th. Using the sum of Trinity Christian's PR splits, I projected that it would be very difficult for them to Final at all, and Williamsburg Christian didn't even have an entry.
Our girls once again swam amazingly well. The sum of their PR splits was 4:01.21, but they managed to qualify in 13th place with a 3:58.81. Isabelle Luevano and Mary Pennefather were particularly amazing. Isabelle split a 59.00 on a previous PR split of 1:00.43 and Mary P. split 58.27 on a previous PR split of 1:01.09! Before the race, Coach Mulhern told me that he told Mary P. that she should be able to go 58.3. Not bad coach.
There were a number of other great swims on Saturday morning:
Our Girls "B" 200 Free Relay of Emily Flynn, Gemma Flook, Katharine Rowzie and Isabelle Luevano swam a strong 1:52.22. Like last week, Emily Flynn was just amazing, splitting leading off in 27.62, 1.42 seconds better than her lifetime PR and 2.68 seconds faster than her best flat start 50 this season. Gemma also had a lifetime best relay split of 27.45 on a PR split of 28.61. Nice work Emily and Gemma!

Caroline Griffin entered the Prelims of 100 Backstroke outside of the top 16 so we knew it would be difficult to get in. She had a great swim, cutting .82 seconds from her PR, but unfortunately, that landed her in 17th. You can't ask any more than a big PR like that Caroline!

Anne Konstanty faced off against Caroline Sykes from Trinity Christian for the 3rd week in a row. Anne won the rubber match finishing 45th while Caroline took 47th.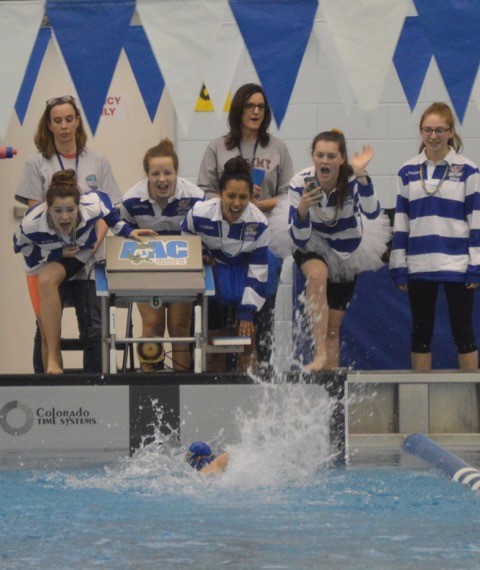 Comments
There are no comments for this announcement.