Please pardon any issues you may have with the website. ETEAMZ, without any notice, implemented a platform change to their network. We are developing a new WebSite on the SportsEngine platform for use this year.
The Ithaca Adult Hockey Association was formed during the summer of 1999 by a group of players from both the Cass Park and the Rink leagues. The primary goal of
IAHA

is to promote a healthy and fun recreational adult hockey league in Ithaca by providing oversight of the league administration, improving parity among teams, promoting sportsmanship, and encouraging players at all skill levels to participate.

Lightspeed Tele/Data Networks won the B/C Division Championship with a 2-1 game 3 win over Instant Replay Sports. Lightspeed opened the scoring on the power play midway through the first period. Instant Replay tied the game late in the period.
The teams traded scoring opportunities throughout the back and forth game, with neither team able to take the advantage. Late in the third period, Lightspeed scored the decisive goal, again on the power play, with 3:19 remaining.
Lightspeed finished third during the regular season with a 12-9-5 record. During the playoffs, they were able to overcome the challenge of game 3s in each of their series wins, winning two overtime games along the way. Instant Replay was the regular season champions posting a 16-6-4 record, with a +30 goal differential. They swept both their quarter and semi final series, winning both of their the semi-final games in overtime.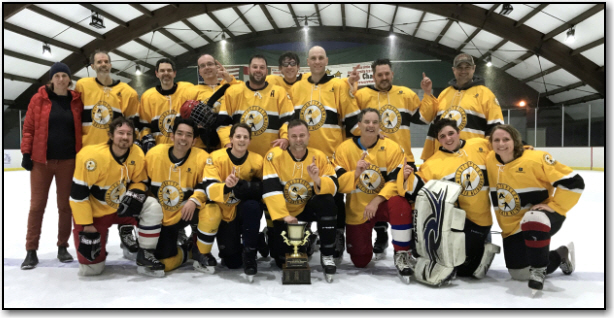 Quarter-Final 1:
Instant Replay Sports: 9 - Ithaca Kickball: 4 - Instant Replay Sports leads series 1-0
Instant Replay Sports: 6 - Ithaca Kickball: 3 - Instant Replay Sports wins series 2-0 and advances to the Semi-Finals
Quarter-Final 2:
James Orcutt Real Estate: 4 - PSP Unlimited: 2 - James Orcutt Real Estate leads series 1-0
PSP Unlimited: 3 - James Orcutt Real Estate: 2 - series tied 1-1
PSP Unlimited: 1 - James Orcutt Real Estate: 0 - PSP Unlimited wins series 2-1 and advances to the Semi-Finals
Quarter-Final 3:
Frankly Flyers: 1 - Lightspeed Tele/Data Networks: 0 - Frankly Flyers leads series 1-0
Lightspeed Tele/Data Networks: 2 - Frankly Flyers: 1 - series tied 1-1
Lightspeed Tele/Data Networks: 1 - Frankly Flyers: 0 - OT - Lightspeed Tele/Data Networks wins series 2-1 and advances to the Semi-Finals
Quarter-Final 4:
Boston Angler Sportfishing: 5 - Uncle Joe's Grill and Sports Bar: 4 - Boston Angler Sportfishing leads series 1-0
Boston Angler Sportfishing: 4 - Uncle Joe's Grill and Sports Bar: 1 - Boston Angler Sportfishing wins series 2-0 and advances to the Semi-Finals
Semi-Final 1:
Instant Replay Sports: 3 - PSP Unlimited: 2 - OT - Instant Replay Sports leads series 1-0
Instant Replay Sports: 2 - PSP Unlimited: 1 - OT - Instant Replay Sports wins series 2-0 and advances to the Finals
Semi-Final 2:
Lightspeed Tele/Data Networks: 3 - Boston Angler Sportfishing: 2 - OT - Lightspeed Tele/Data Networks leads series 1-0
Boston Angler Sportfishing: 5 - Lightspeed Tele/Data Networks: 2 - series tied 1-1
Lightspeed Tele/Data Networks: 4 - Boston Angler Sportfishing: 1 (empty net goal) - Lightspeed Tele/Data Networks wins series 2-1 and advances to the Finals
Finals:
Lightspeed Tele/Data Networks: 3 - Instant Replay Sports: 2 - OT - Lightspeed Tele/Data Networks leads series 1-0
Instant Replay Sports: 3 - Lightspeed Tele/Data Networks: 0 - series tied 1-1
Lightspeed Tele/Data Networks: 2 - Instant Replay Sports: 1 - Lightspeed wins series 2-1 and are the 2018/19 B/C Champions