It's not too early to start gearing up for the Spring 2018 baseball season with TRLL discount coupons from Dicks Sporting Goods! TRLL Opening Day is April 6, 2019.
AAA 9-10yr Division and Majors 11-12yr Division teams are forming now. All other Little League division teams will begin forming in early March. Your assigned coach will be contacting you as soon as rosters are formed and distributed.
Click Here for the "Spring 2019 Dicks Coupon.pdf" link for in-store purchase coupons at Dicks Sporting Goods on Route 70 in Brick, one of Toms River Little League's biggest sponsors! Save on gloves, cleats, bats and more! Discount coupons also apply to other team sports gear (e.g., lacrosse, soccer, basketball).
We will be hosting FREE WINTER indoor batting cage and indoor fielding sessions Sunday 2/18/2018 AND Sunday 2/25/2018 for TRLL REGISTERED PLAYERS (league age 4 through 8 year old players ONLY). Online registration for the Spring 2018 season is currently open 24x7 (at www.trll.us).
Age group time slots for Sunday 2/18/2018 & 2/25/2018 are listed below:
League Ages four through eight: 9:00AM - 10:30AM
If you are unsure of your child's LEAGUE AGE, please refer to the 2018 Little League Age Chart on our website www.trll.us (Scroll down on main webpage until you see it).
Please have your player wear sneakers (no cleats indoors) and sweatpants or baseball pants (baseball hat optional). Players should also have a baseball glove. We should have some shared bats and helmets available ... but bring your own if you have one. When you arrive for the workout session, just enter the TRLL complex indoor cage waiting area and check-in at the table, then your child will enter the indoor practice area with the volunteer coaches. All parents will remain in waiting area or inside the upstairs board room.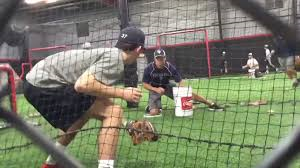 Little League Age Calculator
Click on the Link here to determine the "league age" of any participant or candidate > League Age Calculator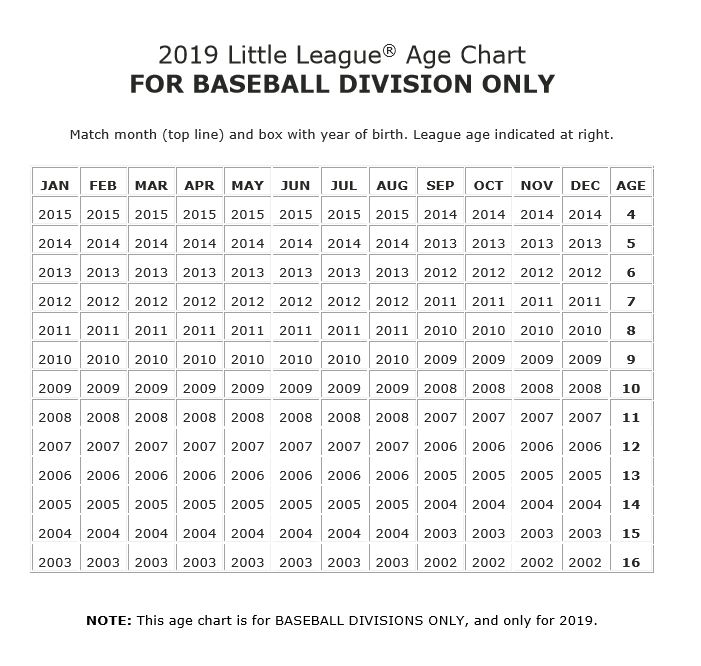 See Below for New Bat Standards Being Implemented by Little League in 2018
Please note that as of January 1, 2018, the new USA Baseball Bat Standard will be implemented by Little League. Little League-approved baseball bats that are approved for use for the 2017 season will no longer be acceptable for use in any Little League game or activity starting on January 1, 2018.
Little League® International has assembled an online resource page dedicated to baseball bat information, that includes the latest bat information, current Little League Baseball rules and regulations governing bats, definition of terms, the moratorium on the use of composite bats, and a series of frequently asked questions, with answers and licensed bat lists.
Click on the below link for a presentation by Little League Baseball on the new bat standards.
Also ... please expect to see Spring 2018 Early Registration Dates/Times in December posted shortly on our website and via email. http://www.trll.us
Kind Regards - Toms River Little League
TRLL will be hosting our Annual General Membership Meeting & 2017-2018 Board Member Elections.
When: Wednesday October 18, 2017 - 7:30 PM
Where: TRLL Complex Board Room (2nd Floor of main building) - 181 Mapletree Road
TRLL Board of Directors Meetings are generally held monthly in the TRLL complex board room @ 181 Mapletree Road. TRLL Board Meeting dates and times are posted on the TRLL website.
The TRLL Board of Directors is an all volunteer leadership organization committed to managing and enhancing the Little League experience for the youth of Toms River, NJ. Regular TRLL Board of Directors meetings are open to the public for all TRLL members and parents that would like to attend. A TRLL parent must attend at least two Board of Directors meetings during the current election year to be able to vote for TRLL Board members at the annual elections (held each October). All TRLL parents are eligible to run for a position on the TRLL Board each election year. TRLL encourages all parents to volunteer and take an active role in making our Little League the best experience possible for the youth of Toms River.