All Spring 2011 Baseball and Softball teams are currently being finalized and managers will be notified with their rosters very shortly. All managers will then be reaching out to their team members with practice and other league information.
Click here to download/print the Dick's coupon...
Dear Toms River Little League member,
For your commitment and effort to help to build a successful baseball organization, Dick's Sporting Goods wants to recognize your dedication by extending an exclusive invitation to a one day team shopping event at our Brick Dick's Sporting Goods store location on Saturday March 12, 2011. Every member of your organization attending this event will receive a Little League Baseball team packet with discount coupons for baseball equipment. In addition to the team packet discounts, you will receive an additional 15% off your entire purchase on that day. Please bring this letter with you to the event. You must present it at the register to receive your discount. We hope that you will take advantage of this team shopping event, so your Little League team can enjoy our best products at a great savings!
*Some additional exclusions may apply. See store for more details.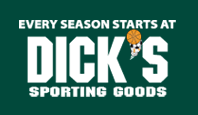 Thank you Modell's Sporting Goods for supporting Toms River Little League!
Get 15% off your purchase until 4/11/2011. TRLL gets 5% back of all purchases!
Click Here to Download/Print the TRLL Modell's 15% Coupon...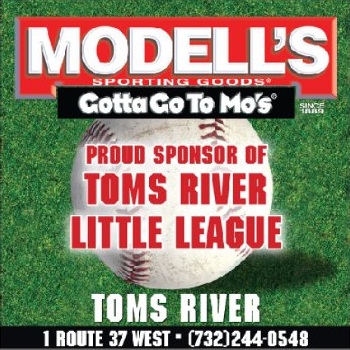 TRLL will be hosting the Spring 2011 Season Opening Day on Saturday 4/2/2011!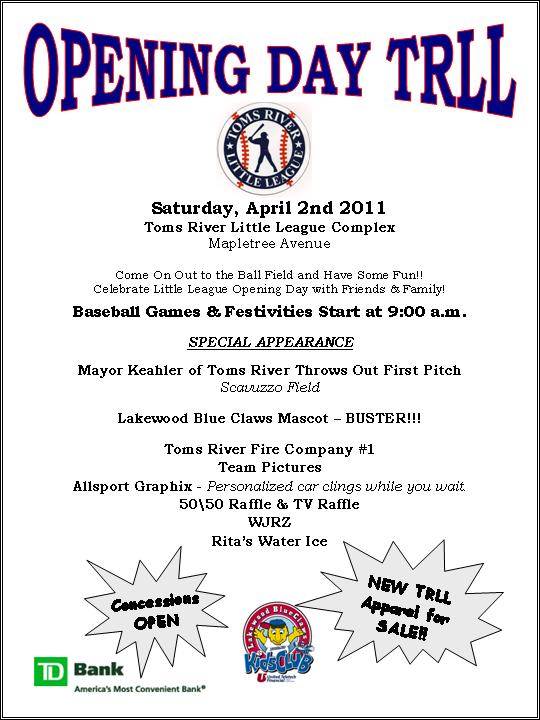 TRLLwill be hosting our annual team and individual photo day on Saturday 4/2/2011 (Rain or Shine).
Photo Day will take place along with the Spring 2011 Opening Day festivities!
Click Here to download/print the 2011 TRLL Photo Day order form....
Click Here to download/view the 2011 TRLL Photo Day team timeslot schedule...
Details are as follows:
Location: Simon Field
In the event of rain, the pictures will be taken indoors inside the batting cages.
The Teams will assemble upstairs in the TRLL boardroom.

For product description or details visit www.njsportsphoto.com
Questions can be directed to info@njsportsphoto.com or call 973-998-0497

PLEASE PLAN ON ARRIVING AT LEAST 10 MINUTES BEFORE YOUR SCHEDULED PHOTO TIME SO AS NOT TO HOLD UP YOUR TEAMMATES AND THEIR FAMILIES.

EVEN IF YOU DO NOT PLAN ON PURCHASING INDIVIDUAL PHOTOS PLEASE PARTICIPATE IN THE TEAM PHOTO AS A COURTESY TO YOUR TEAMMATES.

We look forward to seeing everyone on Saturday April 2, 2011.