1952 - The first city to join Little League Baseball was South Pasadena National Little League.
1953 - California District 18 was established under the leadership of District Administrator Jim Hamilton. That year San Gabriel American, San Gabriel National, San Gabriel Eastern and Sunnyslope Little League established programs.
1954 - Was a big year as six more leagues including Temple City American and Temple City National joined District 18. In 1958 Roy Praisler took over as the District 18 Administrator.
I961 - Mr. Praisler decided he needed an assistant to help him with the operation of the fast growing District 18. He decided to appoint a young league president from Temple City National Little League to be the Assistant District 18 Administrator, that person was Al Millham. Al Millham held the position of Assistant District Administrator until 1966 when he was elected as the District Administrator for District 18, a position he held for 28 years.
At that time in 1966, the International Little League program had grown to include more than 1,600,000 players. In that same year a future District 18 Administrator, Milan Mrakich, was born in Temple City, California.
During Al Millhams administration, District 18 grew from having only Little League Baseball to include Junior, Senior and Big League Baseball as well as all divisions of softball.
1984 - Al Millham was elected for a three year term by his peers to the most prestigious honor of serving in the highest capacity a District Administrator can serve – as the representative of the Western Region on the Little League Baseball International Board of Directors in Williamsport, Pennsylvania. Two years later in 1986 there were more than 2.5 million Little Leaguers playing worldwide.
1994 - Al Millham retired as District 18 Administrator and appointed long time assistant Milan Mrakich to become District 18 Administrator.
Today, within District 18 there are 12 Little Leagues representing over five thousand youngsters in all divisions of baseball and softball annually and throughout the world there are over three million children on six continents playing in the Little League program.
In Grateful Appreciation of your Outstanding Service, Dedication and Continuous Volunteer service to Little League Baseball and Softball spanning more than 25 years. Your spirited volunteer effort towards the development of children participating in Little League Baseball and Softball has given thousands of children the opportunity to learn the value of teamwork, fair play, discipline and enjoy the excitement and fun of summer days on a Little League field. Your commitment and loyalty to family, dedication to Little League Baseball and Softball and your contribution to your community should serve as an inspiration to all of us.
in memory of Al Millham
District 18 Volunteer 1954-2002
2011
Jim Seitz – temple city National - District 18 staff
Ralph Mengel - Sunnyslope - district 18 staff
Joe Morales – South el monte - district 18 staff
Manny Hernandez – el monte national - district 18 staff
2012
Bob and Dawn Duhamel - temple city National
Fernie Ortega - South el monte
Helio Gomez– south pasadena
Howard Brashear – Temple city american
Art Flemming – south pasadena
Diane Bowen - sunnyslope - district 18 staff

2013
Jim Gerstenslager – western regional director
2014
Dave Bonham – western regional director
2015
Jamie Garcia – west-east alhambra - district 18 staff
2016
MIKE GOODRICH - SUNNYSLOPE - DISTRICT 18 STAFF
VICTOR RIVERA - SUNNYSLOPE - EL MONTE AMERICAN
2017
DEBBIE GARCIA - EL MONTE EASTERN
TONY TOLEDO - SAN GABRIEL, TC AMERICAN, TC NATIONAL
Presented By: Milan M. Mrakich District 18 Administrator Little League Baseball and Softball
The State Championship Tournament uses the Game Changer website so that families, friends and supporters can follow the team through this journey. As a fan of District 18 - Temple City National 8/9/10, you can view stats, receive team announcements, and follow live play-by-play from any web or mobile device.
We would love to see a huge crowd out supporting our team! For those that are able to see us here in Lompoc - We are playing at Lompoc Little League at Johns-Manville Park 300 North A St Lompoc, CA 93436.
In June, 562 all-star teams from Southern California started all-star competition in the 8-10 Baseball. On Tuesday night, Temple City National Little League's 8-10 Baseball captured the Section III Championship with a decisive 10-0 win over the all-stars from Upland National Little League. In the competitive Section III Tournament, Temple City National captured three straight wins, outscoring their opponents 39-4.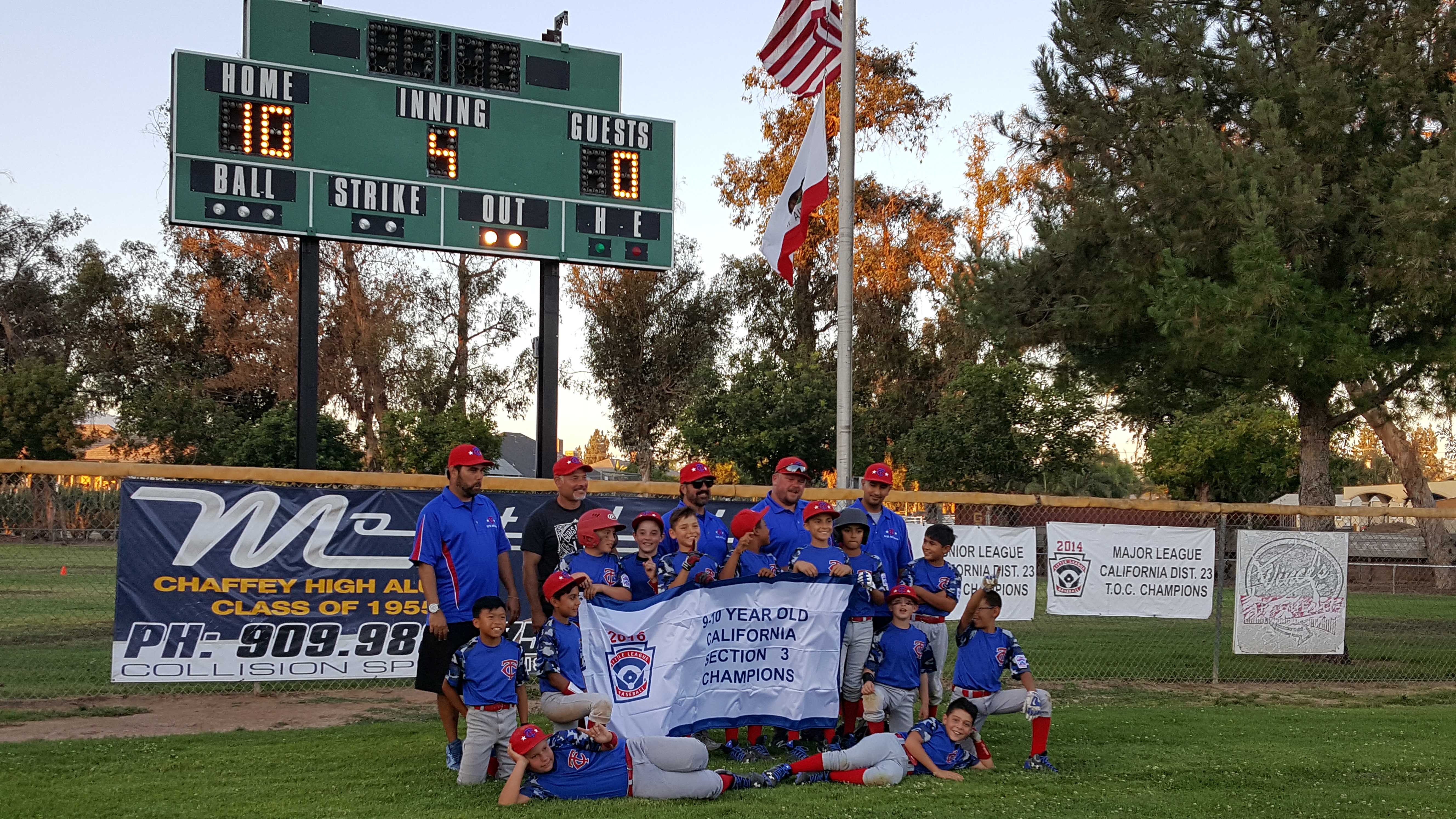 | | | |
| --- | --- | --- |
| LEVEL OF PLAY | DATES | CHAMPIONS |
| 8-9-10 | July 16 thru July 21 | D18 - TEMPLE CITY NATIONAL |
| 9-10-11 | July 16 thru July 21 | D23 - UPLAND FOOTHILL |
| Majors 10-11-12 | July 16 thru July 21 | D23 - UPLAND FOOTHILL |
| Juniors 13-14 | July 9 thru July 14 | D19 - BALDWIN PARK |
| Seniors 14-16 | June 25 thru June 30 | D18 - EAST ALHAMBRA |
| Big League | June 25 thru June 30 | D23 - ONTARIO |